Trials of the Garant System Installed in the T-55AGM Battle Tank
Category: Defence Industry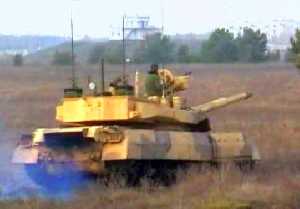 The State-owned Enterprise Kharkiv Morozov Machine Building Design Bureau (Ukraine) carried out successful trials of the countermeasure system intended for suppressing radio-controlled explosive devices. The system had been developed by the Microtech Base Center for Critical Technologies (Ukraine) and is called Garant. When installed in a battle tank, it enables the vehicle crew to neutralize the radio-based control system of mines and other explosive devices by means of setting radio interference.
For the trials purposes the Garant system was installed in the upgraded T-55AGM tank, which also features a 125 mm smoothbore gun, bustle-mounted automatic loader, remote-controlled anti-aircraft machine gun, up-to-date fire control system with an override capability for the commander, additional passive armour protection, new-generation explosive reactive armour, 850 hp engine, automated vehicle movement control system comprising a steering wheel, optronic countermeasures system, and new fire suppression system.
Installation of the Garant system further enhances the protection level of the T-55AGM tank.
Sergyi Way
20.12.2006


www.army-guide.com
Share...




T-55AGM (Modernization of the vehicle)
Discuss