PVI wins MRAP production awards
Category: Defence Industry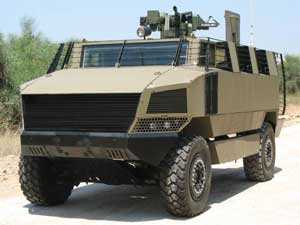 North Charleston, SC - Protected Vehicles, Inc. announces receipt of a production order for 60 MRAP Category II vehicles for the US Marine Corps. Additionally, PVI will serve as a subcontractor to Oshkosh Truck Corporation for 100 MRAP Category I vehicles.
The two selected MRAP vehicles are the PVI-ALPHA and GOLAN, created and refined by Garth Barrett and PVI over the past 14 months.
"We have been able to provide to the Marines two levels of crew survivability, mobility, and lethality that are timely to meet current and emerging threats. Our vehicles are new designs which reduce casualties and increase survivability for Marines and Soldiers subjected to mine explosions, Improvised Explosive Device (IED) detonations, Rocket Propelled Grenades (RPGs) and Small Arms Fire (SAF). The PVI-ALPHA design supports Urban Combat Operations, Mounted Combat Patrols and transport missions. The GOLAN supports multiple missions, to include convoy operations, troop transport missions, ambulance missions, Combat Engineer and Explosive Ordnance Disposal (EOD) missions for maneuver units, as well as close-in Urban Combat Operations," said Michael Sandusky, Executive Director for Program Management.
PVI's GOLAN vehicle sets a whole new TWV standard for protection, mobility, and lethality. Through intensive testing in Israel over the past few months, PVI, with its partner, Rafael Armament Development Authority, has refined the vehicle's protection and automotive capabilities to superior performance levels.
The PVI-ALPHA is a lighter-weight vehicle designed to be an economical path to superior blast and ballistic protection for the US Military. When coupled with PVI's ShieldAll TM armoring solution the vehicle exceeds highly desired protection levels with minimal impact to payload and performance capabilities. Standalone, ShieldAllTM has multi-hit protection capability against 7.62AP threats at one-third the weight of armored steel.
Protected Vehicles, Inc. and Oshkosh Truck Corporation (NYSE: OSK) began collaborating in the summer of 2006 to explore new vehicle protection applications. Pertinent to the MRAP production requirements of 4,100 fielded vehicles by December 2007, Oshkosh and PVI forged plans to respond to the increasing demand of quality protected vehicles. The relationship keys on PVI and Oshkosh core competencies of protected vehicle design, armored capsule production, high volume automotive integration, and contract logistics support.
Established in late 2005, PVI retains more than 170 employees with plans to add another 300 over the next few months. PVI has established a welding school utilizing former Navy Nuclear Weld facilities in preparation for the hiring boom. Over the past year Protected Vehicles, Inc. has made significant investments and improvements to their 400,000 plus square foot campus on the Old Naval Shipyard in Charleston. PVI has secured options for more square footage in nearby facilities as demand continues to grow.
Protected Vehicles, Inc.
28.02.2007

Share...




Otokar debuts its Light Tank in Paris
19.06.2018
Prominent presence in Poland for Denel
07.09.2017
AxleTech International and Thales announce long-term supply agreement
25.07.2017
More CASSPIRS Ready For Delivery To African Client
25.07.2017
Protected Vehicles, Inc. - PVI
ALPHA (Wheeled armoured personnel carrier)
GOLAN (Wheeled armoured personnel carrier)
Discuss