Scale Armour
Category: Term of the day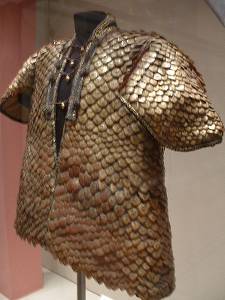 Scale armour is an early form of armour consisting of many individual small armour scales (plates) of various shapes attached to each other and to a backing of cloth or leather in overlapping rows.
Scale armour was worn by warriors of many different cultures as well as their horses. The material used to make the scales varied and included bronze, iron, rawhide, leather, cuir bouilli, seeds, and horn. The variations were primarily the result of material availability.
Scale armour offered better protection from blunt attacks than mail. It was also cheaper to produce, but it was not as flexible and did not offer the same amount of coverage.
Sergyi Way
19.03.2013


www.army-guide.com
Share...




Discuss