Tanegashima
Category: Term of the day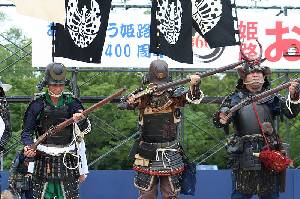 Tanegashima was a type of matchlock or arquebus firearm introduced to Japan through the Portuguese in the 16th century.
Tanegashima were used by the samurai class and their foot soldiers (ashigaru) and within a few years the introduction of the tanegashima in battle changed the way war was fought in Japan forever.
The name "tanegashima" came from the Japanese island (Tanegashima) where a Chinese junk with Portuguese adventurers on board was driven to anchor by a storm in 1543. The lord of the Japanese island, Tanegashima Tokitaka (1528–1579), purchased two matchlock rifles from the Portuguese and put a swordsmith to work copying the matchlock barrel and firing mechanism. The smith (Yaita) did not have much of a problem with most of the gun but "drilling the barrel helically so that the screw (bisen bolt) could be tightly inserted" was a major problem as this "technique did apparently not exist in Japan until this time." The Portuguese fixed their ship and left the island and only in the next year when a Portuguese blacksmith was brought back to Japan was the problem solved.
Within ten years of its introduction, an upwards of 300,000 tanegashima firearms were reported to have been manufactured.
Sergyi Way
28.03.2013


www.army-guide.com
Share...




Discuss