US, Canada partner to upgrade Canadian howitzer
Category: Army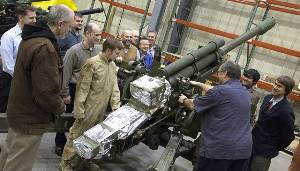 The Canadian Royal Army has enlisted the help of Picatinny engineers to evaluate the life-span of their World War II-era C3 Howitzer.
"We are looking for engineering data that, unfortunately, we're missing right now," said Canadian Army Maj. David Lebel, Equipment Management team leader for Field Artillery Systems.
The C3 Howitzer is a 1950's technology that the Canadian Army is trying to keep in service for ten or 11 more years.
"The fleet is now about 60 years old, and after it was modified to fit Canadian needs, we didn't think at that time to have the contractor provide engineering data -- to check the rail forces or validate the forces that are applied to the structure, either while it's firing or while it's being towed," Lebel explained.
"Now that it's been around for 60 years, we're starting to experience a few cracks here and there, but we can't explain how these cracks are being made. We need to be able to find solutions without having to ground the fleet for a long amount of time."
The Canadian Army uses the C3 howitzers for training, although they use the 155 mm M777 in combat. The operation procedures for towed howitzers are similar, but 105 mm ammunition is cheaper than 155 mm ammunition.
"We take a lot of time to train before going into operations, so this reduces cost," Lebel said.
AVALANCHE CONTROL
In addition to training purposes, the C3 is also used for avalanche control in the snow-covered Canadian mountains.
"There's a stretch of highway in the (Canadian) Rockies called Rogers Pass, which is in Glacier National Park," Lebel explained.
"Because of the mountains' elevation, there's about 300 inches of snow during winter, and it's very prone to avalanches," Lebel said. "We've got a detachment from the Royal Canadian Artillery with [C3 Howitzers] ready to support Parks Canada in managing the dangers on the main road of Roger's pass. Once Parks Canada gives us the go ahead, we shoot to stabilize the area, which means sometimes we do create an avalanche so that we can shovel the snow out."
DISCOVERING DEFICIENCIES
Picatinny's Program Executive Office Ammunition, known as PEO Ammo, employees, with help from Armament Research, Development and Engineering Center, or ARDEC, engineers, is conducting an analysis of the stresses of the C3 Howitzer in order to support the howitzer's life cycle, said Luke Helsel, ARDEC's C3 Evaluation team lead.
The team will conduct a series of tests over the next year to determine potential problems that could occur throughout the system.
"We're going to do analysis to help the Canadian Army find those problems in advance," said Helsel. "It helps them better predict areas to target for inspections or to perform upgrades. Sometimes that can be a challenge when looking at a design that was done years ago, and has no support from the original contractor."
The data packages for the howitzer are from the 1940s, and they have been updated through the 1980s, but there's no subject matter expert to refer to for questions.
"It's fascinating to look at the older style of design, and to see what we can do to support them maintain their fleet for the next couple of years," said Helsel. "Some of these slick things they did back then are good to look at now. The old design can inspire us for modern work and working on this project we can discover new analysis techniques that we can use here for the M119 or M777."
A gun was recently shipped to Aberdeen Proving Ground, Md., for mobility trials. In April, it will be transferred to Yuma Proving Ground, Ariz., for firing trials.
At Aberdeen, engineers will instrument the gun with strain gauges to measure the amount the metal is being pulled while towing the gun. The gun will also be towed around a series of courses over hills and other terrain while recording data from the gauges.
"Then, using that data, we can predict virtually what the strain is throughout the whole carriage," said Hesel. "After that, we can come back and figure out where we think the other high strain areas are and perform another test to confirm our analysis."
At Yuma, engineers will do similar testing while firing the howitzers at different elevations and azimuths.
"This will give us the engineering technical argument to pursue the direction we need to," Lebel said. "Hopefully, we'll be able to find a few simple, small fixes to extend the lifecycle without having to re-engineering big assemblies on the gun."
The Canadian Army currently has almost 100 deployed across Canada, and the process for replacing the howitzers with newer models could take up to two decades.
"We can't stop every unit from training six months while we're scratching our heads trying to decide how to solve the problem. So by giving us the technical data that we're looking for, ARDEC is really making our job that much more easy either to do preventive maintenance that's much more accurate on potential failure locations. And should there be a failure, they'll be enough engineering data to put together a solution that won't take us four or five months to get to."
"At this point, we know there are problems, but I don't think there's going to be one solution to fix them all. We're gonna have to choose the problem that's the most risky and go about it in a deliberate fashion. But there could be many conclusions," Lebel said.
FRIENDLY RELATIONS
"The reason Canada came to us is that we have a great working relationship," said David Wong, Foreign Military Sales manager for PEO Ammo's Project Manager Towed Artillery Systems.
"Canada purchased 37 of our M777 155mm howitzers, so they know us and the capabilities and resources we have. This project extends the good working relationship we've had for seven years," Wong said.
In addition, the Department of National Defence, especially the Director of Armament Sustainment Program Management, has benefited on several aspects of howitzer maintenance and support from both Project Manager Towed Artillery Systems expertise and Picatinny's resources, Lebel added.
Picatinny also recently updated their M119 Howitzer fleet, which required similar data collection and engineering processes.
US Army
29.01.2014

Share...




U.S. Army awards BAE Systems $45 Million contract for Extended Range Cannon Artillery prototype
22.07.2019
US Army Developing New 120mm AMP Tank Round
20.03.2013
Savings Served Up for Bradley Armor Plates
02.03.2013
Stryker units in Afghanistan now equipped with precision mortars
17.07.2012
Discuss