US Army Gives Green Light to GD for WIN-T Increment 2 FRP
Category: Army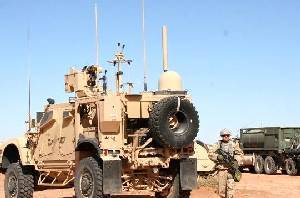 The U.S. Army received approval to move forward with full rate production of the Warfighter Information Network – Tactical (WIN-T) Increment 2 system. Designed and built by General Dynamics, WIN-T Increment 2 provides commanders and soldiers with an unprecedented ability to communicate, share information and intelligence while on patrol, with connectivity rivaling that found in a stationary command post.
The action follows an Acquisition Decision Memorandum (ADM) issued by the office of the U.S. Undersecretary of Defense for Acquisition, Technology and Logistics. The ADM authorizes the Army to proceed to full rate production and fielding of its mobile tactical communications backbone network to all remaining Army units projected to receive the WIN-T Increment 2 system through 2028.
"This is an important milestone and we'll continue to support the Army as it fields this vital mission command and communications system throughout its global force," said Chris Marzilli, president of General Dynamics Mission Systems.
WIN-T Increment 2 is integrated into Mine Resistant Ambush Protected (MRAP), High Mobility Multi-purpose Wheeled Vehicles (HMMWV) and Stryker vehicles. To date, four division headquarters and 12 brigade combat teams have WIN-T Increment 2. The system successfully served Army units supporting the Security Force Assistance Brigades in Afghanistan by replacing the fixed communications infrastructure dismantled when the U.S. military closed its operating bases. Last summer, WIN-T provided the 'communications grid' for humanitarian operations responding to the Ebola epidemic in West Africa.
GDLS
10.06.2015

Share...




KONGSBERG Awarded Contract from GDLS Supporting US Army Stryker ECP Program
11.07.2013
GDLS-Canada Awarded $24 M LAV-A2 Contract by USMC
17.01.2013
Fifty-one new Foxhound vehicles for the front line
25.11.2012
BAE Systems gets R900m MRAP upgrade deal
01.02.2011
General Dynamics Land Systems - GDLS
General Dynamics Land Systems - GDLS - Canada
Discuss