QinetiQ wins DARPA electric hub-drive design and development contract
Category: Future Technologies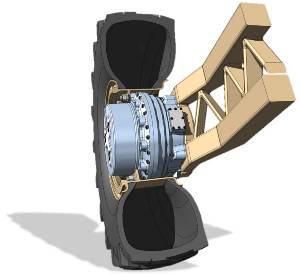 QinetiQ is to develop an electric hub-drive to improve survivability and mobility of future military ground vehicles for the US Defense Advanced Research Projects Agency (DARPA).
The contract, worth $1.5m with an option for a further $2.7m, is part of DARPA's Ground X-Vehicle Technologies (GXV-T) programme. Under this programme, participants will investigate technologies that could help to significantly improve capability in the next generation of vehicles.
QinetiQ's hub-drive seeks to improve mobility through enhanced power, torque, integral braking and high efficiency, in a unit that can be contained within a 20" wheel rim. It aims to increase survivability by removing drive shafts and gearboxes, which can become lethal to occupants in the event of an IED detonation beneath the vehicle. The absence of these components could also reduce weight and open up future design possibilities, such as fully independent suspension with significantly increased travel.
Dr David Moore, Director of Research Services at QinetiQ, said: "Like cavalry horses throughout history, vehicles risk becoming less mobile as they are loaded with more armour and weaponry to meet the evolving demands of warfare. Our hub-drive tackles that threat by combining optimum performance with a significant weight saving, which is critical for mobility. It also introduces a far greater degree of architectural flexibility, enabling vehicles to be configured in ways which offer greater protection to their occupants.
"For us, this contract offers an opportunity to show how our expertise, built through 17 years of developing electro-mechanical transmissions for tracked and wheeled vehicles, can help customers de-risk the future."
Sergyi Way
13.09.2015


www.army-guide.com
Share...




QinetiQ and Pratt Miller Deliver First Robotic Combat Vehicle - Light to U.S. Army
02.02.2021
Bradley Driving… In Stereo
06.07.2018
BAE Systems Teams with QinetiQ to Pursue Electric Drive on Combat Vehicles
04.06.2017
QNA Partners with Persistent Systems to Integrate MPU5 Radios into Family of UGV
12.01.2017
Defense Advanced Research Projects Agency - DARPA
Discuss