LAND 400 Phase 2 Blast Testing Done And Dusted
Category: Army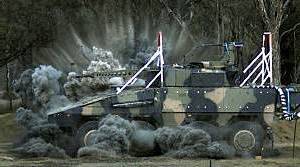 A final series of blast tests have been completed on the two shortlisted contenders vying to become the Australian Defence Force's new Combat Reconnaissance Vehicle.
To assess their survivability, Rheinmetall's Boxer and BAE Systems Australia's AMV-35, were exposed to simulated mine blasts at Defence's Proof and Experimental Establishment at Graytown in Victoria.
Minister for Defence Industry, the Hon Christopher Pyne MP, said the blast tests were conducted under the wheels and under the belly of the vehicles, and represented a final trial by fire.
"The aim of this project is to deliver a world-class armoured fighting vehicle which can take a hit, and protect our soldiers," said Minister Pyne.
"Importantly, these trials have been conducted by Australian soldiers who will operate these vehicles when they are delivered, closely supported by Defence Science and Technology Group staff."
The tests are the final phase of a rigorous program designed to put the two vehicles through their paces in a range of operating environments.
"During the last 12 months, the vehicles' protection, lethality and usability have been measured and assessed," Minister Pyne said.
Defence will buy 225 CRVs costing between $4 to $5 billion.
The LAND 400 Phase 2 team has worked hard to increase opportunities for Australian industry participation in this program.
"The project secures the ADF's sovereign CRV expertise and over 1000 jobs across more than 300 Australian based companies," said Minister Pyne.
"The winner will be announced in the first half of 2018."
Sergyi Way
12.08.2017


www.army-guide.com
Share...




£2.8bn armoured vehicle contract secured for British Army
11.11.2019
The Dutch armed forces select Rheinmetall to modernize their Bergepanzer 3 Büffel
17.05.2019
EOS launches new ultra light R150
08.09.2018
Australia Orders 211 Boxer Wheeled Armoured Vehicles
17.08.2018
Boxer GTK/MRAV/PWV (Wheeled armoured personnel carrier)
Boxer IFV (Infantry fighting vehicle)
Boxer BDR (Repair and recovery vehicle)
Boxer C (Ammunition resupply vehicle)
Boxer C2 (Ammunition resupply vehicle)
Boxer CPV (Control and command vehicle)
Boxer SPH (Self-propelled howitzer)
Boxer HEL (Fire support vehicle)
Discuss