SEP T2 – a milestone in the development of a new Swedish military vehicle
Category: Future Technologies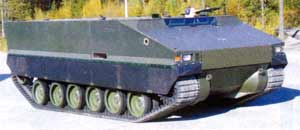 SEP T2 Land Systems Hagglunds has taken an important step in the development of SEP, the Swedish military vehicle of tomorrow.
The 22nd of November a newly developed tracked version of the SEP prototype was handed over to Director-General Gunnar Holmgren, Defence Material Administration (FMV).
– SEP T2 represents a milestone in the project and is a hugh technical step forward, says Sven Kagevall, Managing Director of Land Systems Hagglunds. SEP will be good business for Sweden, as well as our all terrain vehicles and CV90´s are.
– During the last 10 years Hagglunds has generated export business to an amount of approximately 20 thousand millions SEK thanks to successful sales of all terrain vehicles and combat vehicles. We have proven that we can both develop and export successful vehicle concepts. With a future development order for SEP we have the possibility to continue to generate export income to at least the same extent for "Sweden Corp."
SEP is a flexible modular vehicle which will replace several older vehicles. SEP has a low total weight (17 tonnes), is available in both tracked and wheeled configurations and can carry out several tasks. SEP has an ingenious load changing system which implies that specialized mission modules with different tasks (towing, ambulance etc.) can be shifted between the vehicles. In the development work strong emphasis is put on reducing maintenance and running costs and adjusting the vehicles towards the environmental demands of today.
– With SEP T2 we have reached a new technical level in our development work, says Sven Kagevall, and mentions three essential improvements: A new generation of electric drive that improves the steering qualities, an improved signature management and a replaceable role module.
Another important advantage is that the fuel consumption is reduced compared to conventional vehicles in the same weight class. The use of rubber tracks reduces the wear on roads and nature and also improves the work environment.
Commercial components and sub-systems are to a large extent used in the development work which gives a lower total cost of the vehicle system.
International interest
Sven Kagevall is also delighted about the great international interest in SEP.
– There are many connections in the development of SEP and the British FRES project. This is not at least emphasized by the great number of visits by British generals at Hagglunds. Also the EU authority EDA (European Defence Agency), which restructures and coordinates the work of future defence products in Europe, has shown its interest in SEP as well as Norway and Australia have.
Hagglunds
13.12.2005

Share...




BAE Systems expands teaming in Italy for highly mobile armored vehicles
25.07.2017
BAE Systems Awarded £500 Million Norwegian Armoured Vehicle Contract
22.06.2012
BAE Systems Reseives UK Order For Additional BvS10 Vikings
17.02.2009
New £14 Million Contract For BvS10 VIKING Vehicles
02.07.2008
BAE Systems Land Systems Hagglunds AB
Discuss