Australian Minister for Defence Industry Publicly Announced Elbit Systems' Award of Additional BMS for the ADF
Category: Future Technologies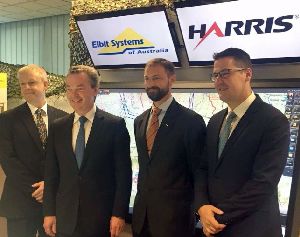 Canberra, Australia -- Elbit Systems of Australia Pty Ltd (ELSA), a wholly owned subsidiary of Elbit Systems Ltd., hosted the Australian Minister for Defence Industry, the Hon Christopher Pyne MP, Senator for the Australia Capital Territory, Zed Seselja, The Chief of the Army, Lieutenant General Angus Campbell, AO, DSC at its facility in Canberra, marking the award of Tranche 2 of the Australian Army's Land 75/125 program. Elbit Systems reported this contract award on September 27, 2017. The program is the extension and enhancement of the Australian Army's Battle Management System (BMS) originally procured under the Land 75/125 Program.
Bezhalel (Butzi) Machlis, President and CEO of Elbit Systems, commented: "Australia is an important market for Elbit Systems and we are proud to have been selected by the Department of Defence for the next phase of this major program. This additional award is a significant next step in digitizing the Australian Army and strengthens our continued strategic partner-relationship with one of the world's most advanced and modern fighting forces."
Elbit Systems is the prime contractor of the Australian Army's BMS and it supplies, integrates, installs and supports the Battle Group and Below Command, Control and Communications (BGC3) system for the Australian Army's Land 75/125 program. The BGC3 is comprised of a BMS for soldiers, Vehicle Mounted Commanders and Headquarters/Command Post Staff.
The project will be performed primarily by ELSA, employing over one hundred engineers across several company sites.
Elbit Systems
28.11.2017

Share...




Elbit Systems of Australia Concludes Successful Delivery of Thermal Weapon Sights to ADF
14.05.2018
Elbit Systems Presents SPEAR MK2 – Latest Version of the Fully Autonomous Mortar System for Lightweight Combat Vehicles
16.05.2017
Elbit Systems Brazilian Subsidiary, Ares, Awarded an Approximately $100 Million Framework Contract to Supply Remote Controlled Weapon Stations
11.01.2017
Contract for Bradley Fighting Vehicle Gunner's Hand Station
06.10.2016
Discuss