The Russian Ministry of Defense has concluded contracts for the supply of an experimental-industrial batch of T-14 Armata MBT
Category: Army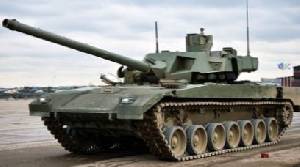 The Commander-in-Chief of the Russian Ground Forces Colonel-General Oleg Salyukov said that state contracts have already been concluded for the supply of an experimental industrial batch of T-14 Armata Main Battle Tanks (MBT) for military operation.
According to him, at the moment, industrial enterprises conduct debugging of Armata, its adjustment and coordination of all systems and units.
Earlier it was reported that the Russian army would receive one hundred Armata MBTs until 2020.
T-14 Armata - the world's first tank with a remote controlled turret. The crew of the vehicle is in the sealed armored capsule in the front part of the hull. T-14 maximum road speed is about 90 km/h, road range - 500 km.
Afghanit Active Protection System intercepts rounds and missiles. Malachite ERA iprotects MBT against particularly powerful ATGM.
The tank is equipped with a 125-mm 2A82 or 152-mm 2A83 main smoothbore gun. The range of fire is up to seven kilometers, and for Krasnopol 2K25 guided missiles - about 20 km.
Sergyi Way
23.12.2017


www.army-guide.com
Share...




ARMATA MBT - problems 2020
24.12.2020
Problems of Russian land military vehicles with diesel engines
24.12.2020
Rosoboronexport at Eurosatory 2010
16.06.2010
T-14 Armata (Main battle tank)
T-15 Armata (Infantry fighting vehicle)
T-16 Armata (Repair and recovery vehicle)
Discuss