Trends of use of non-lethal weapon
Category: Future Technologies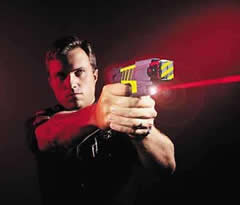 Analysts of many armies in the world, scaling up their efforts, carry out investigations in the field of new types of non-lethal weapon. New tactics of combat actions and the use thereof in modern conditions are being developed.
Army has always solved political tasks. Recently the politicians pay special attention to extension of peacemaking steps taken by the army and view them as a link with development of political situation in these countries. Integration of national peacemaking forces into international units enables to realise or strengthen achievement of political goals.
The politicians are especially concerned by formation of relations with local population during army actions and in the period after invasion of regular army into the territory. At his stage the army units are not engaged in army actions but perform police duties and employ the anti-guerilla tactics. The occupation period can be more extensive than army operations and armies are still armed with army weapon, although the tasks differ in tactics and demand new types of weapon.
Casual losses among civilians caused by the army of occupational forces can change the attitude of population in the occupied areas and have a substantial effect of the results of the conducted army operation. As a result they can essentially adjust political goals of the complete campaign.
That is why non-lethal weapon is becoming the effective counterbalance and augmentation to the weapon, meant to annihilate the enemy's troops.
Establishing new laws on the occupied territories is possible only with legal condemnation of the imprisoned enemy. Demonstration of the power of Law is much more important for stabilization of the political situation than total and bloody annihilation of the enemy at its home territory. Annihilated enemy is unable to give any information and become a «loyal citizen». Its annihilation can give a psychological impetus to its relatives, relationship and party brothers-in-arms to stir up the guerilla actions at the territories under control of occupation army.
According to a number of experts, very soon the UN forces participating in peacemaking operations, will be composed of armed forces of only those countries that are armed with non-lethal weapon.
The concept of a non-lethal weapon has something in common with the concept of new categories of light high-precision weapon. These two types of weapon while jointly used in combat can substantially reduce casual victims among peaceful population and will enable to rapidly implement political goals of the military campaign. In future it will be quite possible to create new set of weapon for peacemaking mobile groups, armed with both non-lethal weapon and light high-precision weapon for urban combat.
Conventionally we can single out the following principles of a non-lethal weapon combat effect:
humaneness of effect on the enemy, which excludes lethal wounds, injuries, lingering or irreversible health disorder of the enemy;
sufficiency of action for rapid imprisonment of the enemy and substantial reduction of its fighting efficiency both in the open ground and when using light shelters;
adequacy of effect on the enemy using minimum force that is sufficient to suppress the threat;
selectivity of action on the enemy and its equipment;
high tactical and economical factors for minimization of expenses to recover the damage of the defeated enemy or its equipment.
The long list of non-lethal weapon principles clearly characterises and predetermines the possible tactics of its combat use.
At present, certain types of a non-lethal weapon is present at the world market:
weapon that uses powder and compressed gas forces (net launcher, catapults, water cannons, impulse devices, dispersed mixtures and bio-active agents sprayers, etc.)
weapon that uses the sources of optical, laser emission, infra-sound, radio-wave, microwave, etc.
types of a non-lethal weapon that defeats the enemy's troops and equipment at the areas by using vibro-acoustic properties, vortical principles, current-conducting powders, etc.
weapon of light-smoke action using pyrotechnic means (signal flares with sound effects, smoke means, etc.)
combat mixtures and compounds with non-lethal physical and chemical composition (foamy, gel, powder, quick-setting, with enhanced friction properties as well as annihilators, etc.)
weapon based on bio-chemical agents of a non-lethal action (odorants, irritants, malodorants, and liquid markers, narcotic mixtures, light viruses, etc)
weapon that uses high voltage electric charge supplied via conductors or ionized laser beams, etc.
Such a long list of available at present non-lethal weapon testifies to wide opportunities of its combat use. New weapon enables to radically change the existing tactics and increase the range of the performed by the police or peacemaking forces missions.
When conventional mines are used to protect block-posts, areas and borders, in many cases it is the peaceful population that suffers most of all. Besides, when such mines are left they totally demoralize peaceful population and oppress development of economics and vital activity of local people. Induction of new non-lethal mines that are under development by the Ukrainian company «Valar» to peacemaking forces, will facilitate solution of conventional ones, and capable of changing the political atmosphere among the peaceful population in the post-war period.
V.I. Artsihovsky
22.02.2006

Share...




Discuss