Stadiametric Ranging
Category: Term of the day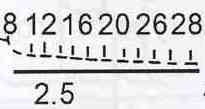 A method of ranging in which markings in the field of view of the operator's sighting system are compared with an assumed standard dimension of the target - for example, the vehicle's height.
It is an alternative, but much less accurate, method of optical rangefinding. If a standard value is assumed for a key target dimension (e.g., target tank height = 2.5 metres), graticule marks can be set in the gunner's field of view which correspond to that dimension at different ranges. The operator determines which marks just bracket the target and reads off the appropriate range. This is a relatively quick, simple and inexpensive technique, but it is not particularly accurate, because the true target dimension must be close to the pre-determined value, the relevant target dimension must be clearly visible, and the gunner must be skilled in judging when the marks are bracketing the target.
In general, stadiametric marks are a useful secondary method of rangefinding, being relatively simple to implement in existing sights, both optical and electronic.
Sergyi Way
28.07.2006


www.army-guide.com
Share...




Otokar offers solutions with technology transfer and local manufacturing models
13.09.2019
Otokar debuts its Light Tank in Paris
19.06.2018
FNSS Showcases its New Generation Tracked & Wheeled Armored Vehicles at Eurosatory 2018
12.06.2018
The U.S. Army Awards Oshkosh Defense The Contract For The Famıly Of Medıum Vehıcles A2 Varıant
08.02.2018
Discuss
Records 1 to 5 of 5
Post

Misima
11:33 01.08.2006


I wonder if the tankers still use this rather primitive technique.

Huda
13:09 01.08.2006


It is a back-up procedure if other equipment is down.

Fabian
18:23 01.08.2006


Some countries still use T-34 tanks. For these tanks it is probably the mein sighting procedure.

Azam
10:28 02.08.2006


In T-series tanks this scale is availeble in the main sight, and in European and American tanks, in the anciliary sight. It is onlu used when something is wrong with the main devices, say the laser rangefinder.

Ayed
09:26 03.08.2006


I wonder if the tankers still use this rather primitive technique.

This technique is primituve, but it does require some skills.