India aspires to modernise its T-72 MBTs
Category: Defence Industry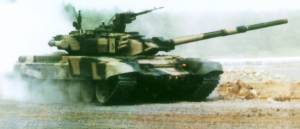 In 1997, the Indian Land Forces filed a request for modernisation of 1500 T-72 MBTs. In the year 2001, the Ministry of Defence tokk a decision to carry out the modernisation in batches. The first batch consisting of 300 T-72s are to be modernised by the year 2007.
The modernisation, as planned, will cover all the main characteristics of the tank. The cost of modernisation of one tank may be above 1.5 million dollars.
Many leading companies of the world have sent their proposals. By the time being, the preliminary trials have been carried out in India with the so-called 'narrowed-down' list of contenders being determined. For examples, the thermal imaging system to be used might be the French Thales-developed Catherine-FC thermal viewer or the Matis thermal viewer developed by the Sagem company, also in France. Radio equipment has been offered by the British BAE Systems company and the Electro-Optics Industries Ltd of Israel, while the contenders for supply of navigation equipment include the Israel Aircraft Industries Ltd and the German LITEF company.
The final stage of the trials is to be carried out at the beginning of the next year.
By the time being, India has only taken its decision as to the power pack. Earlier this year, three-month-long evaluation trials have been carried out (the participants included five T-72 tanks fitted with upgraded V12 engines developed by the Indian State-owned Company Heavy Vehicles Factory, and five T-72 tanks fitted with Russian 840 hp V-84MS engines which are similar to those installed in the T-90S tanks). The trials showed clearly that, under desert conditions, the Indian engines got overheated and suffered a loss of performance. As a result, the V-84MS engines have been selected.
The Indian Ministry of Defence has announced that representatives of the LandForces Headquarters are holding negotiations with the Russian Rosoboronexport company on the matter of concluding a contract for procurement of the tank diesel engines. The constract may be signed by the end of this year. The V-84MS engines will be installed in the first 300 out of 1,500 T-72s which are to be modernised by the decision of the Land Forces Headquarters. The preparation for the signing of the tank engine supply constract is almost completed, with a decision on the prices still pending.
Sergyi Wey
11.01.2005


www.army-guide.com
Share...




Discuss