Panoramic Sight
Category: Term of the day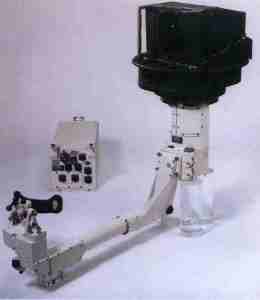 It is a sight that can be rotated to enable an operator to observe the scene throughout an azimuth angle of 6400 mils (360 degrees).
The sight of the tank commander is normally positioned at the highest point of the turret, enabling him to rotate his line of sight through 6400 mils (360 degrees) in azimuth. This sight is called a panoramic sight. However, to prevent the image from being inverted after 3200 mils (180 degrees) of rotation, the panoramic sight must be fitted with de-rotation optics. These additional elements make panoramic optical sights more complicated, and hence more expensive, and also reduce the light transmission.
In general, panoramic sights, with their gyro systems and de-rotation optics, are expensive and, being more complicated than the fixed link sights, they can be less reliable and require more maintenance. Nevertheless, such sights are essential equipment in a modern battle tank if it is to acquire and engage moving targets while itself being in motion. Quite simply, without this capability, a tank is likely to find itself outclassed.
Sergyi Way
16.08.2006


www.army-guide.com
Share...




MBDA SHOWCASES TANK DESTROYER VEHICLE WITH PGZ AT MSPO 2019
12.09.2019
Leonardo DRS Battle Management Hardware Successfully Supports Australian Tanks During Combat Exercise
27.07.2018
MBDA and Milrem Robotics to Develop Anti-Tank UGV
18.06.2018
Rheinmetall unveils the Lynx KF41 Next-Generation Combat Vehicle
18.06.2018
Discuss