Rheinmetall takes up a majority share in ADS GmbH
Category: Defence Industry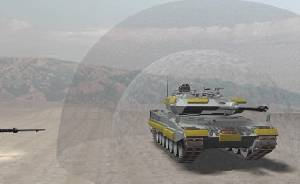 Steadily expanding its role as a global supplier of systems and equipment for ground forces, the Rheinmetall Group of Düsseldorf has taken over operational control of ADS Gesellschaft für aktive Schutzsysteme mbH of Lohmar, Germany.
Simultaneously, ADS GmbH has reported a breakthrough in marketing its revolutionary new high-tech system for protecting military vehicles.
Rheinmetall's stake in ADS increases to 74% from 25%. The remaining share of the company continues to be held by IBD Deisenroth of Lohmar. In taking over a controlling interest in ADS, Rheinmetall is exercising an option agreed when the Group first invested in the company in 2007.
In the meantime, ADS Gesellschaft für aktive Schutzsysteme mbH has successfully completed development of its "Active Defence System", one of the most innovative forms of military protection anywhere, and now been awarded a first serial production order.
An Asian nation has decided to protect its military vehicles in future with the "Active Defence System". ADS can now move from the development and trials phase to full-scale serial production, which is to commence in 2011. A number of European armies, too, are currently showing a keen interest in this new technology.
The ADS belongs to a new generation of standoff active protection technologies. It is one of the world's most advanced and effective systems for protecting military vehicles of practically every weight class from operational threats, especially light antitank weapons, guided missiles and certain improvised explosive devices (IEDs).
Experts put the number of tactical vehicles worldwide that need to be retrofitted with such active protection systems in the tens of thousands.
The system is based on the hard-kill principle, in which incoming projectiles are detected and instantly – i.e. within microseconds – destroyed by directed energy immediately before reaching their target. It is the only high-performance close-in defence system which minimizes collateral damage in the vicinity of the vehicle.
Achieving a level of force protection commensurate to the current threat means having to equip platforms with a combination of active and passive protection solutions coupled with soft-kill systems.
Well aware of this, Rheinmetall has been systematically expanding its technological portfolio, partly by acquiring new companies. Ownership of Rheinmetall Chempro GmbH, Rheinmetall Verseidag Ballistic Protection GmbH and a now-expanded stake in the company ADS Gesellschaft für aktive Schutzsysteme mbH gives the Group ready access to a unique array of sophisticated protection technologies.
Rheinmetall's comprehensive protection concept is based on a multi-level approach. Effectively constituting a vehicle's outermost layer of defence, the "Active Defence System" is an extremely innovative, highly effective solution that neutralizes ballistic threats before they reach their intended target.
Passive solutions such as add-on armour made of composite or ceramic materials form an indispensable second line of defence. Rheinmetall is pressing ahead with new developments here, too, offering military customers comprehensive protection solutions from a single source, e.g. bullet-resistant driver's cabs for logistics vehicles and trucks.
The Group's protection concept also encompasses high-performance soft-kill solutions for ground vehicles as well as fixed wing aircraft, helicopters and ships. For example, Rheinmetall's "Rosy" smoke/obscurant protection system renders ground vehicles invisible in the event of an attack, while its MASS naval countermeasures now sets the standard worldwide. MASS works by launching decoys which reliably divert incoming enemy missiles from their intended target.
Rheinmetall
06.02.2011

Rheinmetall MAN Survivor R special protected vehicle on show at GPEC 2020 international security exhibition in Frankfurt/Main
24.02.2020
Rheinmetall books ˆ110 million-contract to extend the service life of the Marder infantry fighting vehicle for the Bundeswehr
21.01.2020
Denmark and Germany receive the latest versions of the LEOPARD 2
07.11.2019
Rheinmetall to Feature Next Generation 130mm Tank Gun at AUSA Global
04.11.2019
Rheinmetall MAN Military Vehicles GmbH - RMMV
Rheinmetall Verseidag Ballistic Protection GmbH
Rheinmetall Soldier Electronics GmbH
Rheinmetall AG, Representative Office Abu Dhabi
Rheinmetall Waffe Munition GmbH
Rheinmetall Defence Electronics GmbH
Rheinmetall Waffe Munition Arges GmbH
American Rheinmetall Munitions, Inc. - ARM
Rheinmetall Denel Munition (Pty) Ltd - RDM
Leopard 2A5 (Main battle tank)
Leopard 1A5 (Main battle tank)
Leopard 2A6 (Main battle tank)
Leopard S122 (Main battle tank)
Leopard 2A4 (Main battle tank)
Leopard 2 Strv 122 (Main battle tank)
Leopard 2 Strv 121 (Main battle tank)
Leopard 1 ARV (Repair and recovery vehicle)
Leopard 2A6M (Main battle tank)
Leopard 2/Pz87 (Main battle tank)
Leopard 2PSO (Main battle tank)
Leopard C1 (Armoured vehicle-launched bridge)
Leopard 2A4E (Main battle tank)
Leopard 2A6HEL (Main battle tank)
Leopard 2A6M CAN (Main battle tank)
Lahat Leopard 2 (Modernization of the vehicle)
Leopard 1A1 (Main battle tank)
Leopard 2A7+ (Main battle tank)
Leopard 2NG (Modernization of the vehicle)
Leopard 2PL (Main battle tank)