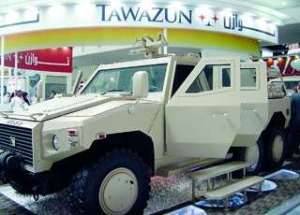 Abu Dhabi -- Tawazun Holding, the Abu Dhabi-based strategic investment firm, is the Lead Sponsor of this year's 11th Annual International Armoured Vehicles (IAV) conference and exhibition being held at FIVE, Farnborough, UK from 20th to 23rd Feb 2012.
A wholly owned subsidiary of the UAE's Offset Program Bureau, Tawazun is engaged in the long-term development of Abu Dhabi's industrial manufacturing and technology capabilities, including knowledge transfer, with a specific focus on defence, defence manufacturing and manufacturing technology.
Established in 2007, the firm's mission is to develop profitable ventures through industrial partnerships and strategic investments that add to Abu Dhabi's industrial manufacturing layer and contribute to the balancing of the UAE economy.
Tawazun's delegation to the IAV is headed by H.E Saif Mohamed Al Hajeri, Chief Executive Officer.
Hamad Al Neyadi, Tawazun's Chief Strategic Officer of Tawazun will be speaking at IAV (on Main Conference Day 2, 22nd Feb) on the emerging manufacturing and technology capabilities in the Middle East.
Tawazun's focused but extensive portfolio includes Nimr Automotive, a specialised vehicle manufacturer, and the firm will be showcasing Nimr at IAV. Indeed, Nimr will be the first UAE company ever to appear at the event.
Also Abu-Dhabi-based, Nimr produces a range of high-mobility, multi-terrain, multi-purpose vehicles designed to address the varied needs of international Armed Forces and security organisations. These customisable, interoperable platforms, offering transport solutions for a wide range of combat and non-combat scenarios can be employed in many roles, including as armament or personnel carriers, logistics vehicles, ambulances, and mobile Command and Control centres.
Bringing together senior military and industry experts, IAV, the world's largest meeting place dedicated to the armoured vehicles community, provides opportunities for its visitors to gain expert insights on armoured vehicle trends, global procurement activity and lessons learned from the battlefield, as well as conduct business with the world's leading vehicle, system and component manufacturers and smaller specialist suppliers.