Otokar to present COBRA II and ARMA 6x6 at GDA 2017
Category: Exhibitions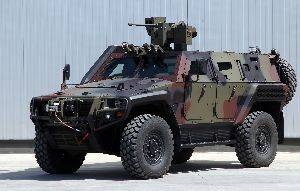 Otokar, the biggest privately owned company of Turkish defence industry, participated in Gulf Defense & Aerospace exhibition in Kuwait, between 12th and 14th December. Otokar exhibited its COBRA II 4x4 and ARMA 6x6 armoured wheeled vehicles at its booth.
Regarding exhibiting in Kuwait, Otokar General Manager Serdar Görgüç said: "Our vehicles are used in over 30 countries by more than 50 different users. The requirements and feedbacks of our clients are our guidelines to enlarge our product portfolio. With an enlarged product portfolio, Otokar gives foremost importance to further expand its activities in the Gulf Cooperation Council countries. In this respect, Otokar highly gives importance to the ongoing relationship with its users in the region, including Kuwait armed and security forces."
Reminding Otokar Land Systems, Serdar Görgüç said, "We established Otokar Land Systems in UAE in 2016, aiming to be closer to our users in regions where we operate, we intended to strengthen our cooperation abroad, especially in the Gulf region, open to new markets and increase our sales. The most important step in this goal is taking role in one of the largest 8x8 armoured vehicle supply projects through Al Jasoor, established in partnership with Tawazun."
COBRA II: Undertaking the Most Challenging Missions
COBRA II, designed by Otokar, successfully serves the Turkish Armed Forces and security forces in various missions, and several other countries, including United Nations missions. In addition to its superior mobility, COBRA II offers 10-personnel capacity including the driver, and excellent security thanks to its outstanding level of protection against ballistic, mine, and IED threats. COBRA II delivers high performance in the most challenging terrain and climate conditions, and can be produced in an amphibious version on demand, perfectly adapting to different missions that may be required. Preferred especially for its broad weapon integration and mission-oriented equipment options, COBRA II successfully carries out a variety of missions including border protection, security and peacekeeping operations. Designed and produced by Otokar in line with user expectations against present and future threats, COBRA II features a modular construction that enables the vehicle to be used as personnel carrier, weapon platform, land surveillance radar, CBRN reconnaissance vehicle, command control vehicle, and ambulance. At GDA, Otokar exhibited its COBRA II with its own design KESKIN remote controlled weapon station.
ARMA 6x6: Successfully in service in the Gulf Region
ARMA 6x6 is actively used in the Gulf Region since 2010. Highly modular and capable, the ARMA product family is an ideal platform for various purposes and a wide variety of missions, offering a low-profiled solution suited for existing and future combat conditions depending on the modern armies' survivability, protection and mobility needs. ARMA draws attention with its high combat weight and spacious interior, and thanks to its amphibious kit, is able to wade in water at 8kmh without any advance preparation. At GDA, ARMA 6x6 was displayed with Otokar designed BOZOK 12.7 mm MKT turret system.
Otokar
Founded in 1963, Otokar has been operating in the defence industry since 1987 when the company produced Turkey's first tactical wheeled vehicles. The company, with a plant spread on 552,000 square meters of land and nearly 2500 employees, designs and produces 4x4, 6x6, 8x8 tactical wheeled armoured vehicles, tracked armoured vehicles and turret systems tailored for specific client expectations and needs. Having designed and developed the world's most modern main battle tank ALTAY in accordance with the Turkish Armed Forces' requirements, Otokar offers a wide product range that includes 4x4 tactical wheeled armoured vehicles COBRA, COBRA II, KAYA, KAYA II and URAL; multi-wheeled tactical vehicles ARMA 6x6, ARMA 8x8; tracked armoured vehicles TULPAR, TULPAR-S, and turret systems KESKİN, ÜÇOK, BAŞOK, BOZOK and MIZRAK. Otokar's defence industry products are actively used by nearly 50 users in more than 30 countries. Otokar, Turkey's largest land systems producer, is part of Koç Group, also Turkey's largest group of companies.
Otokar
13.12.2017

Share...




Otokar offers solutions with technology transfer and local manufacturing models
13.09.2019
AKREP II electric armored vehicle presented in Turkey
25.04.2019
Cobra-1600 EOD UGV for the first time entered service brigade of the Russian army
10.08.2018
Otokar Receives $28.9 Million Contract for its Armored Vehicles
31.07.2018
OTOKAR Otobus Karoseri Sanayi A.S.
COBRA (Wheeled armoured personnel carrier)
Cobra-K (Infantry fighting vehicle)
Cobra-S (Infantry fighting vehicle)
COBRA (Control and command vehicle)
COBRA (Reconnaissance Vehicle)
COBRA (Nuclear/biological/chemical reconnaissance vehicle)
COBRA II (Wheeled armoured personnel carrier)
Cobra (Tracked armoured personnel carrier)
COBRA MK2 (Robot, Unmanned Vehicle)
Cobra (Wheeled armoured personnel carrier)
Cobra (Mine protected carrier)
Cobra (Wheeled armoured personnel carrier)
COBRA MK2 Ñ (Robot, Unmanned Vehicle)
COBRA MK2 E (Robot, Unmanned Vehicle)
Cobra (Wheeled armoured personnel carrier)
Discuss