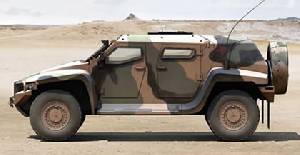 Printer-friendly version
SASA, Israel -- Plasan, a leader in the design, development and integration of advanced armored protection systems, for all types of wheeled and tracked vehicles, is proud to have been selected together with Thales for the Land 121 Protected Mobile Vehicle – light (PMV-L) program. The Thales and Plasan innovative design will help ensure troops successfully and safely complete their mission. Thales and Plasan have worked side by side for several years to be able to develop, test and provide the final winning solution.
Plasan will be responsible for delivering the fully protected body kit for the 1,100 Hawkei vehicles to be provided to the Australian Defense Force (ADF), on a contract spread over the next 5 years.
The Hawkei solution includes:
Advanced armored Kitted hull designs that are built to optimize survivability against a full range of blast and ballistic threats
Blast protected seats, restraints and stowage to minimize crew impact during adverse events
An integrated system designed to absorb and deflect blast energy
A transparent and opaque armor for high level of kinetic threats including fast stow and removable add-on kits
Dani Ziv, Plasan CEO stated "We want to congratulate Thales for securing the Hawkei program and we are honored to be part of the winning team and to provide advanced solutions for one of the world's leading protected military vehicles. Thales – Plasan cooperation for the development, testing and production of the protective solution is an achievement for both companies and we look forward to extending our cooperation for future programs and contracts. This contract is another major milestone for Plasan, demonstrating our dominance of providing advanced high protection solutions to future vehicles."
Chris Jenkins, CEO of Thales Australia said:
"This is a great day for the ADF and for Australian industry. Hawkei is a highly capable vehicle that will serve this country well for many years to come, and we are delighted that the Department of Defence has recognized the importance of this vehicle by reaching this milestone.
"We are proud to have been chosen to deliver this next generation of protected vehicles to our armed forces, and we stand by them ready to support and adapt it as their requirements evolve. "We also thank Plasan, who have been with us on this long journey and played a significant role in shaping the Hawkei and contributing to its success. It's a great story about what Australian industry and international partnerships can achieve."