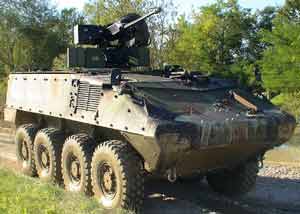 Haifa, Israel -- Elbit Systems Ltd. signed a contract in the amount of approximately $32 million to supply Unmanned Turret Systems, Fire Control Systems and additional Land Systems to the Portuguese Army.
The contract to supply the various systems was signed with STEYR, Austria, a member of the General Dynamics European Land Combat Systems Group, prime contractor of the program. The Unmanned Turret systems and the other items to be provided by Elbit Systems will be integrated into PANDUR II 8X8 light wheeled armored vehicles manufactured by STEYR and will facilitate rapid force mobility and deployment of the Portuguese army.
Elbit Systems offers a unique solution in the area of Unmanned Turrets, which is perceived as a significant element of the modern urban battlefield. New threats and unconventional challenges have spurred military forces worldwide to equip for urban warfare and low-intensity conflicts. Today's advanced ground forces are opting for wheeled, armored vehicles, characterized by speed, mobility and lightweight, assuring rapid mobility and deployment.
This contract win is significant since the program demonstrates Elbit Systems' capability to provide a completely integrated configuration for fighting/ patrol/surveillance vehicles, including Unmanned Turrets equipped with missiles, automatic 120 mm mortars, fire control and threat detection systems.
Joseph Ackerman, President and CEO of Elbit Systems said: "Elbit Systems Unmanned Turrets are based on extensive battlefield experience in various types of conflicts. The selection of our systems for this project attests to Elbit
Systems' leadership in the field of Turret and Fire Control systems. The system was developed to fully comply with NATO and U.S. military requirements and is a true step function in response to asymmetric warfare challenges."
Ackerman added that this contract follows Elbit Systems' recent announcement of its being chosen to cooperate with the Swiss company Mowag to supply 30 mm Unmanned Turrets systems to be mounted on Piranha III vehicles, for the Belgian armored infantry vehicle program. "Elbit Systems", he concluded, "views the contract awarded by the Portuguese Army as a springboard to potential future business in this fast-growing market".
Elbit Systems' Unmanned Turret is a dual-axis stabilized system for 25 or 30 mm cannons. Among its outstanding design features are a very low silhouette, lightweight and a fold-down position assuring the critical advantage of transportability in C-130 aircraft. System installation requires no internal volume or deck penetration thus preserving the internal vehicle configuration and the required number of crew members. All weapon functions are remotely and electrically operated from within the crew compartment without exposure to external threats.