Elbit Systems Presents SPEAR MK2 – Latest Version of the Fully Autonomous Mortar System for Lightweight Combat Vehicles
Category: Defence Industry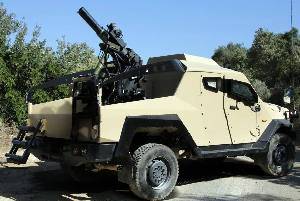 Elbit Systems will present its latest version of the Spear mortar system – Spear MK2 – at the International Land Warfare and Logistics Conference in Latrun, Israel (May 16-18).
The Spear MK2, an upgraded version of the operationally proven Spear mortar system, is a 120 m"m fully autonomous modular mortar system. The Spear's latest version has a high recoil reduction capability, while not affecting the Cardom mortar system and the Spear's well known effectiveness. The mortar system is easily installed on a variety of lightweight combat vehicles allowing agility and performance of tactical operations.
The upgraded system provides improved situational awareness, wider area coverage, quick deployment and has autonomous or manual activation requiring only two-three crew members. The mortar system is deployed and operational within only sixty seconds, equipped with a command and control system providing battlefield management and situational awareness capabilities, fire missions' prioritization and monitoring of personnel assignments.
Sergyi Way
16.05.2017


www.army-guide.com
Share...




General Dynamics European Land Systems presents a new variant of PIRANHA IFV at the HEMUS Exhibition 2018
04.06.2018
Elbit Systems of Australia Concludes Successful Delivery of Thermal Weapon Sights to ADF
14.05.2018
Australian Minister for Defence Industry Publicly Announced Elbit Systems' Award of Additional BMS for the ADF
28.11.2017
Rheinmetall selects Queensland for Military Vehicle Centre of Excellence
15.07.2017
Discuss