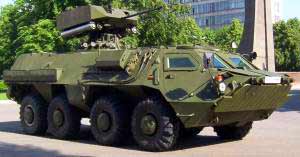 The State-owned Enterprise Kharkiv Morozov Machine Building Design Bureau (SOE KMDB) has unveiled its new development – BTR-4 8x8 armoured personnel carrier (APC) – at the Aviasvit'2006 exhibition held on a military aerodrome near Kyiv.
The BTR-4 was developed and manufactured as a private venture. The developers hope that the vehicle will be of interest to Ukraine's Ministry of Defence as well as to foreign customers.
The new Ukrainian APC has a conventional layout with the driver's and commander's compartment at the front part of the hull, the engine and transmission compartment in the middle, and the troop compartment at the rear. The troops enter and leave the vehicle either through the rear doors or the roof hatches, and the driver and the commander are provided with doors located on the sides of the hull.
The BTR-4 can operate in a wide range of ambient temperatures (-40 up to + 55 degrees Centigrade), as well as under dusty conditions, and can move on hard surface roads at a maximum speed of 110 km/h and cross water obstacles at a speed of 10 km/h. The vehicle is powered by a 3TD diesel engine developing 500 hp. At customers' request, the vehicle can be fitted with a Deutz engine developing either 489 or 598 hp.
The BTR-4 can be a basis for development of various types of vehicles: fire support vehicle, command vehicle, ambulance, air defence vehicle, combat reconnaissance vehicle, and recovery vehicle.
In the standard configuration, the vehicle has a weight of 17 tonnes and provides protection against small arms fire and mine blasts. In the enhanced configuration (with the front armour being able of providing immunity against 30 mm gun rounds), the vehicle weight can reach 27 tonnes.
Apart from the BTR-4, the SOE KMDB also demonstrates at the exhibition an improved version of the Dozor-B 4x4 armoured personnel carrier.