Representatives of the Iraqi Ministry of Defence Have Accepted Another Batch of BTR-4 Armoured Personnel Carriers
Category: Defence Industry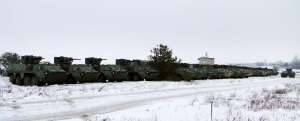 On 7 February, in Kiev, the representatives of the Ministry of Defence of the Republic of Iraq and those of the State Company "Ukrspecexport" signed the document that confirms the acceptance of another batch of Ukrainian-made BTR-4 armoured personnel carriers. The batch consists of 40 vehicles.
"The tests have been conducted successfully. No serious problems have been revealed. We are content with the process of cooperation with the Ukrainian side. In Iraq, the Ukrainian-made BTR-4s, which have been supplied earlier, are operated under difficult field conditions. This is a new and advanced vehicle for the Iraqi Army", said the official representative of the Iraqi delegation.
The $457.5 million contract for supply of 420 BTR-4 vehicles was signed late in 2009 by representatives of Ukraine and Republic of Iraq. The main contractor is the State Enterprise "Kharkiv Morozov Machine Building Design Bureau", the sub-contractors are State Enterprise "Malyshev Plant" and other enterprises of the State Concern "Ukroboronprom". The contract envisages the supply of not only BTR-4 armoured personnel carriers, but also special vehicles based on the BTR-4 chassis, technical maintenance and repair vehicles, and training simulators, with required technical support being also provided.
The Ukrainian side is content with the results of the inspection. "Despite the considerably more strict requirements for acceptance put forward by the Iraqi side (each vehicle was checked in accordance with a special procedure), all the vehicles were accepted without any substantial observations. We will fulfil the contract in compliance with the agreements that have been concluded. Now the main task consists in establishing an efficient maintenance system to service the vehicles that have been delivered to the Iraqi side", said a representative of the State Concern "Ukroboronprom".
Sergyi Way
08.02.2013


www.army-guide.com
Share...




Problems of Russian Vacuum APFSDS-T projectile
25.01.2019
Bumar Labedy represents the PT-17 MBT on the MSPO 2017
07.09.2017
The Second Batch of BTR-4 Armoured Personnel Carriers Shipped to Iraq from Odessa Seaport
14.09.2012
BTR-4E: Ukraine Takes Leading Positions in Modern Light Armor Vehicles Market
25.07.2012
Kharkiv Morozov Machine Building Design Bureau - KMDB
Discuss