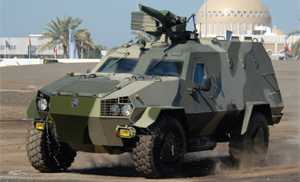 In the the mobility demonstration at IDEX'2007, Ukraine demonstrated for the first time its Dozor-B light 4x4 armoured personnel carrier (APC), which has been developed by the Kharkiv Morozov Machine Building Design Bureau for the home and export market and, where possible, proven parts have been used in their design.
The Dozor-B is being marketed as a light APC and typically has a crew of three (commander, driver and gunner) and can carry eight fully equipped troops. Armament consists of a roof-mounted 12.7mm machine gun, although other turrets and armaments can be installed.
Many of the Dozor-B subsystems are of western design and manufacture and it is offered with two different diesel power packs. These are an IVECO diesel developing 122hp coupled to an IVECO manual transmission and a Deutz diesel developing 190hp coupled to an Allison automatic transmission.
As it is being marketed on a worldwide basis, the Dozor-B is fitted with an air-conditioning system, heater and central tyre pressure regulation system. Development of the Dozor-B is said to be complete and production can commence when firm orders are placed.
There is also an unarmoured pick-up version called the Dozor-A, which can carry five people, with an additional six people or two tonnes of cargo, being accommodated in the rear.