General Dynamics Awarded $161 Million for M1A2 Tank Retrofit
Category: Contracts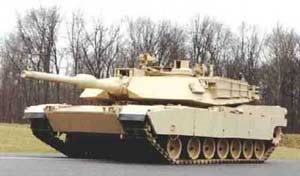 STERLING HEIGHTS, Mich. - The U.S. Army Tank-Automotive and Armaments Command has awarded General Dynamics Land Systems, a business unit of General Dynamics (NYSE: GD), a $161 million modification as part of a $283 million contract to retrofit 129 M1A2 Abrams tanks with an enhanced electronics package. The retrofitted tanks will modernize the U.S. Armyís 3rd Armored Cavalry Regiment, Fort Carson, Colo.
The M1A2 is the latest, most technologically advanced Abrams tank, entering service in 1993. It is replacing 20-year-old M1A1-configuration tanks which began service in the 1980s. This retrofit is part of the overall M1A2 tank upgrade program that integrates new technologies to improve soldier warfighting capability with enhanced digital command and control features like color maps and displays, computer memory, processing speed and communications.
In May 2004 the U.S. Army awarded General Dynamics a $121 million contract to retrofit 65 of the unitís M1A2 tanks. This modification rounds out the contract to modernize the unitís entire 129-tank fleet.
Work will be performed in Lima, Ohio, Tallahassee, Fla., Scranton, Pa., Muskegon, Mich., and Anniston, Ala., by existing General Dynamics employees.
General Dynamics, headquartered in Falls Church, Virginia, employs approximately 70,200 people worldwide and had 2004 revenue of $19.2 billion. The company is a market leader in mission-critical information systems and technologies; land and expeditionary combat systems, armaments and munitions; shipbuilding and marine systems; and business aviation. More information about the company can be found at www.generaldynamics.com.
Pete Keating
13.03.2005


www.gdls.com
KONGSBERG CONCLUDES A $ 54 MILLION CONTRACT FOR THE DELIVERY WEAPON STATIONS TO CANADIAN ARMY
05.06.2020
Germany awards 159 MUSD vehicle contract to GDELS
24.04.2020
Switzerland awards contract to General Dynamics European Land Systems- Mowag to deliver 100 EAGLE 6x6 reconnaissance vehicles
06.12.2019
General Dynamics Land SystemsĖUK showcases adaptable Foxhound vehicle at DSEI 2019
23.09.2019
General Dynamics Land Systems - GDLS
General Dynamics Ordnance and Tactical Systems
General Dynamics European Land Systems-Mowag GmbH
General Dynamics Santa Barbara Sistemas
General Dynamics Armament Systems
General Dynamics Defence Systems
General Dynamics European Land Systems-Steyr GmbH
General Dynamics Armament and Technical Products (GDATP)
General Dynamics Amphibious Operations - GDAMS
General Dynamics Corp., Advanced Information Systems
General Dynamics Robotic Systems - GDRS
General Dynamics Land Systems - GDLS - Canada
General Dynamics European Land Systems - GDELS
M1A2 Abrams (Main battle tank)
M1A2 Abrams (Modernization of the vehicle)
M1A2 SEP Abrams (Modernization of the vehicle)