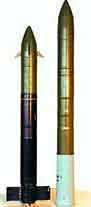 According to ITAR-TASS, the total value of the products sold by JSC Degtyarev Plant rose in 2007 by 17%, reaching RUR5.5 billion.
This amount constitutes 92% of the planned value. The manufacture of products for civil applications rose by a factor of 1.95 (reaching RUR8.6 billion, or 101% of the planned value). The manufacture of products for military applications rose by a factor of 2.5, i.e. the defence-related production had been increasing quicker than the production of items for civil applications. The total share of defence-related products increased by 18% and now constitutes 84%.
The main reason of the production rise at this world-famous plant is an increase in export deliveries.
For example, the plant exported a larger number of Kornet anti-tank missile systems and 3UBK20 Invar guided missiles that are included in the unit of fire of the T-90S main battle tanks. Besides, in 2007 the Degtyryov Plant started producing a number of types of products that had been previously produced by the Kovrov Mechanical Plant. These products include Ataka and Strela-10 MZ guided missiles, Malyutka anti-tank guided missiles, ammunition for RPG, RShG-1 and other weapon systems, hand anti-tank grenades, Kalashnikov infantry machine guns, 9A-91 small-size sub-machine guns, Kashtan automatic pistols, and flare pistols.
JSC Degtyarev Plant produces missile systems and small arms. These products are exported mostly to Latin America, Africa, Middle East, and South-Eastern Asia. 94.9% of the plant's shares belong to Moscow Bank.