In Russia started testing the Marker UGV
Category: Robots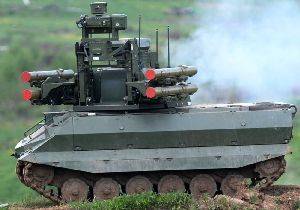 According to the Foundation for Advanced Research (FAR), various technologies are being developed on the basis of Marker Combat Unnmanned Ground Vehicle (CUGV), as well as modifications that will be able to interact with SWAT. This experimental platform is a constructor for creating models of combat operations of the future.
The mobile demonstrator of robotics technologies is being developed to test the technologies being created using an aggregate-modular design principle, with an open architecture and with the possibility of conducting a full-scale development of technologies and basic elements of ground-based equipment. The FAS noted that the evolution of modern CUGV is on the path of increasing the mission capabilities in the autonomous mode with a gradual decrease in the involvement of the operator in control.
Robotic platform Marker is a joint project of the National Center for the Development of Technology and Basic Elements of Robotics (FAR business unit) and NGO Android Technology. Previously, they had already created a Fedor humanoid robot, which was transferred to Roskosmos. In addition, one of the well-known robotic developments of FPI, created in conjunction with the Degtyarev Plant, is the Nerekhta CUGV.
Sergyi Way
05.03.2019


www.army-guide.com
Share...




ARMATA MBT - problems 2020
24.12.2020
KONGSBERG CONCLUDES A $ 54 MILLION CONTRACT FOR THE DELIVERY WEAPON STATIONS TO CANADIAN ARMY
05.06.2020
Kungas Unmanned Ground Vehicle Tested in Russia
11.12.2019
BAE Systems unveils Robotic Technology Demonstrator Vehicle at AUSA
15.10.2019
Defence Forces Social Work Foundation
The SDTP Foundation (Defense Services and Processes Technologies Foundation)
Foundation for Advanced Research - FAR
Discuss