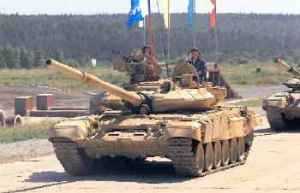 The 5th International Land and Naval Systems Exhibition DEFEXPO India-2008 will be held at the Pragati Maidan grounds in New Delhi, India on February 16-19, 2008. It is justly viewed as one of the prestigious defense events in the Asia Pacific region.
The exhibition, which takes place for the fifth time, is traditionally organized by the Confederation of Indian Industry in partnership with the Defense Exhibitions Organization, the Ministry of Defense and the Government of India. It showcases armored vehicles, artillery, small arms, air defense weapons, EW and communications equipment, army aircraft, naval weaponry, satellite and space technologies, electro-optical devices, and dual-use products. The exhibition area (pavilions and outdoor display areas) occupies about 18,000 sq. m.
Russia is a regular participant in DEFEXPO India. Since the first ever DEFEXPO 1999 the Russian arms exporters have been seeking to actively use this important platform to promote the achievements of the domestic defense industry. At DEFEXPO India-2008, whose holding falls on the opening of the Year of Russia in India, 25 Russian defense enterprises and organizations will show their latest products. The exposition totaling 400 sq. m, organized by Rosoboronexport, encompasses full-scale hardware, models, mock-ups, posters, reference and promotional materials on over 550 export defense and dual-use products targeted to meet the needs of India and other South Asian and Asia Pacific countries.
The Land Forces section is the most saturated one and displays both modern and upgraded versions of armored vehicles, missile and artillery systems, fire control systems, radar reconnaissance and engineering equipment, all-service and special small arms, optical and electro-optical devices.
Foreign customers may get acquainted with the T-90S MBT, which entered service with the Indian Land Forces within the framework of the Russian-Indian militarytechnical cooperation, upgrading variants for the Indian T-72 MBTs and BMP-2 IFVs.
Russia's proposals on T-72 upgrading feature several technological 'know-hows' like an advanced fire control system, a new explosive reactive armor system, and a special aerosol screen-laying system.
The range of the exhibited defense products for the Land Forces also includes self-propelled artillery guns and howitzers, antitank missile and missile/gun air defense systems, small arms and close-in weapons.
Special emphasis in the Russian exposition is given to the Smerch and Grad multiple rocket launcher (MRL) systems and to a wide range of artillery rockets for them.