MTL Group's Advanced Design Solutions at DEFEXPO INDIA 2012
Category: Exhibitions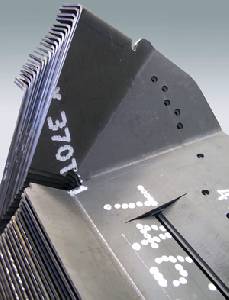 Armour experts MTL Group will be displaying their DFM (Design For Manufacture) capabilities at DEFEXPO 2012 INDIA. They will also introduce a new range of innovative solutions for processing armour plate which includes IMPAS add-on armour.
IMPAS is a light weight add-on steel armour solution that gives the customer a lower cost alternative to ceramic and composite armour. IMPAS offers protection against various threat levels including, Stanag 4569 Level 2. Stanag 4569 Level 3 and FB7
Sales Manager for Defence Simon Hurst said "MTL Group has been working with armoured vehicle manufacturers for many years now on a global scale and are recognised by the worlds leading vehicle manufacturers as not just a supplier of armoured steel components but as the leading specialist in DFM. Our customers are relying more and more on both our cutting edge technology and in depth knowledge and experience in this field"
'Our knowledge and experience in processing armour plate and high strength material allows us to do three things for the OEM'
'Make it Lighter, Make it Stronger and Make it Lower Cost'
DFM is a specialist added value engineering service for the Defence sector; this is carried out by a dedicated cross functional team at MTL Group at the design stages, reviewing the customers design and look at alternative processing methods to reduce weight, cost and increase the protection levels.
'We have identified India as a key market in which MTL Group can offer something different and assist the vehicle manufacturers at the design stage to create a lighter, better protected and lower cost vehicle" said Hurst.
MTL Group is known as the armour bending experts in the defence industry and will also be displaying one of its armoured steel one piece Blast Floors along with its Stanag Level 3 IMPAS solution at DEFEXPO2012 INDIA.
MTL Group will be exhibiting on Stand 14.6 at DEFEXPO INDIA in hall 14.
MTL Group
30.03.2012

Share...




TATRA TRUCKS at Defexpo India 2016
31.03.2016
MTL Group Exhibit at DSA 2014
17.04.2014
Tata Motors and Supacat jointly develop Light Armoured Multipurpose Vehicle (LAMV)
11.02.2014
Izhevsk Electromechanical Plant "Kupol" will take part in the International Exhibition DEFEKSPO INDIA-2014
29.01.2014
Discuss