Force Protection Joint Venture Awarded $122.6 Million Wolfhound Contract by United Kingdom MoD
Category: Contracts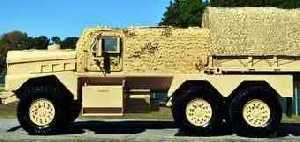 Force Protection, Inc. and NP Aerospace Limited, a subsidiary of The Morgan Crucible Company plc today jointly announced an award for 97 Wolfhound heavy tactical support vehicles including spares and support by the United Kingdom Ministry of Defence (UK MoD). The approximate total value of the contract is $122.6 million.
Based on the successful Cougar/Mastiff vehicle platform, the Wolfhound provides survivable logistics support capability essential for mobile operations. It is a multi-mission adaptable platform that can be configured to address a wide range of support tasks. The award was made to a new Force Protection and NP Aerospace 50-50 joint venture, Integrated Survivability Technologies Limited (IST).
The establishment of IST is intended to provide a single point of contact and design authority for future Force Protection business in the United Kingdom, including new projects, fleet upgrades and logistics support. The Wolfhound award represents the first direct sale to an overseas government of a Force Protection product. All previous Force Protection product orders for non-United States governments have been awarded through the United States Foreign Military Sales (FMS) program.
Michael Moody, Force Protection's Chief Executive Officer, said, "We have established this partnership in the United Kingdom as the base for growing our business with the United Kingdom Ministry of Defence. We are confident that this new IST joint venture will provide maximum benefits and flexibility to our customer and the war fighter while providing Force Protection with important experience internationally in direct commercial contracts."
Force Protection currently supplies mine resistant ambush protected vehicles to the UK MoD, which to date has ordered a total of 447 Force Protection Cougar Mastiff 6x6 and Ridgback 4x4 vehicles. The Cougar Mastiff vehicle has been in service with British forces since 2007. In addition, 14 Force Protection Buffalo route clearance vehicles have also been ordered by the UK MoD. NP Aerospace has been carrying out the integration work on Mastiff and Ridgback vehicles in the United Kingdom.
Mike Linton, Managing Director of IST and previously Operations Director of NP Aerospace, said, "Force Protection and NP Aerospace have been working successfully to bring these vitally important vehicles into theatre. Our new, integrated operation here in the UK will bring tangible benefits in terms of an enhanced ability to tailor our vehicle solutions to customer needs. A direct commercial relationship with the companies working on the integration of Force Protection vehicles will also result in more efficient development and production programs, saving the customer both time and money."
Force Protection
08.04.2009

Share...




The Dutch armed forces select Rheinmetall to modernize their Bergepanzer 3 Büffel
17.05.2019
BAE Systems awarded Armored Multi-Purpose Vehicle contract modifications by U.S. Army for Low-Rate Initial Production
24.02.2019
Rheinmetall Mission Master Dominates European Ground Robotic Systems Competition at ELROB 2018
04.11.2018
Oshkosh FMTV A2 Makes Debut at Ausa 2018, Multiple JLTVS Command the Floor
14.10.2018
Discuss