Revolutionary armour unveiled at Defence equipment event
Category: Future Technologies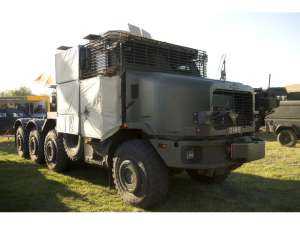 A ground-breaking armour system and a fleet of new armoured vehicles that will provide better protection to troops in Afghanistan were unveiled at the Defence Vehicle Dynamics (DVD) event yesterday, Wednesday 24 June 2009.
The revolutionary, textile-based TARIAN vehicle armour system will give lightweight protection against rocket-propelled grenades, in place of the current bar armour that is fitted to vehicles such as Mastiff and Ridgback.
More than 20 sets of TARIAN armour have been ordered and are already being used on operations in Afghanistan, with half of them fitted to the Heavy Equipment Transporters.
The new system, developed with Dorset-based AmSafe in Bridport, will mean weight saved on armour can be applied elsewhere on the vehicle.
The DVD event also saw the unveiling of the Wolfhound, Husky and Coyote Tactical Support Vehicles (TSV), the first time these newly-purchased trucks have been seen in public.
More than 400 of these brand new vehicles are currently being manufactured across the UK, with delivery to training units expected later this year.
The new TSV fleet will be used to accompany front line patrols and carry essential combat supplies such as water and ammunition.
Minister for Defence Equipment and Support, Quentin Davies, said:
"Troops on the front line have high-quality, versatile equipment that gives us the battle-winning edge in Afghanistan. We are working tirelessly to ensure they have the right equipment for the right job and ensuring that we respond quickly and innovatively to equipment requests from the front line.
"The new TSVs and TARIAN armour system are just two examples picked out from the vast array of kit and equipment that is on show. The number of items on display clearly demonstrates that we have many more success stories to tell about our flexibility in delivering equipment to where it is needed."
The DVD event also saw a taste of combat action as soldiers from 1st Battalion The Rifles and 29 Commando Regiment Royal Artillery simulated a battle group in action on the front line.
They were fully equipped with personal body armour, rifles and the new Husky and Ridgback vehicles and even called in air support from Apache and Merlin helicopters.
Both units have recently returned from front line operations, with 1st Battlion The Rifles helping to mentor the Afghan National Army and 29 Commando Regiment Royal Artillery based at Musa Qaleh.
DVD is a two-day equipment showcase which highlights the importance of diverse areas such as fuel delivery, clothing, food and vehicles that have been bought or upgraded under the Urgent Operational Requirements programme.
The event is organised by Defence Equipment and Support, the part of the MOD which equips and supports the UK's Armed Forces.
Share...




ARMATA MBT - problems 2020
24.12.2020
Rheinmetall MAN Survivor R special protected vehicle on show at GPEC 2020 international security exhibition in Frankfurt/Main
24.02.2020
MBDA SHOWCASES TANK DESTROYER VEHICLE WITH PGZ AT MSPO 2019
12.09.2019
Problems of Russian Vacuum APFSDS-T projectile
25.01.2019
Ministry of the Revolutionary Armed Forces
TenCate Advanced Armour France S.A.S.
TenCate Advanced Armour Danmark A/S
Discuss