India Orders 145 US-built M777 155mm Light-Weight Towed Howitzers Worth $647 Million
Category: Contracts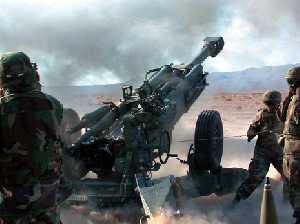 On 22 January 2010 the Defense Security Cooperation Agency (DSCA) notified the US Congress of a possible foreign military sale (FMS) to India of 145 M777 155mm light-weight towed howitzers with laser inertial artillery pointing systems (LINAPS) and associated equipment, training and logistical support for a complete package worth approximately $647 million.
According to the DSCA, "this proposed sale will contribute to the foreign policy and national security of the United States by helping to strengthen the US-India strategic relationship and to improve the security of an important partner which continues to be an important force for political stability, peace, and economic progress in South Asia."
The agency further explains that India intends to use the howitzers to modernise its armed forces and enhance its ability to operate in hazardous conditions. According to the official press release of the DSCA, the howitzers will assist the Indian Army to develop and enhance standardisation and to improve interoperability with US soldiers and Marines who use the M777 as their primary means of indirect fire.
The principal contractors will be BAE Systems; Watervliet Arsenal, Seiler Instrument Company, Triumph Actuation Systems, Taylor Devices, Hutchinson Industries, and UK-based Selex.
DSCA
27.01.2010

Share...




L&T Wins Largest Private Sector Defence Order for Artillery Guns
14.05.2017
Tata Motors signs MOU with Indonesia's PT Pindad
20.11.2016
Javelin Joint Venture signs Letter of Intent with Tata Power
01.09.2016
Thales signs new contract to provide CATHERINE thermal imaging cameras to India
23.05.2016
Asian Defence Journal Office for India
M777 Portee System (Self-propelled howitzer)
Discuss