Force Protection Receives Order for Cougar Mastiff Vehicles
Category: Contracts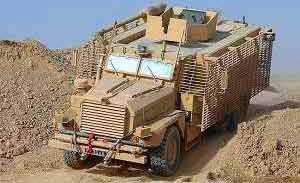 Force Protection, Inc., a leading designer, developer and manufacturer of survivability solutions and provider of total life cycle support for those products, announced that it has received an order for 23 Cougar Mastiff Explosive Ordinance Disposal (EOD) variants to be delivered to the United Kingdom via a Foreign Military Sales (FMS) contract from Marine Corps Systems Command.
The undefinitized contract has a value not to exceed $16.1 million.
The work will be performed in Ladson, SC and is expected to be completed prior to April, 2010. The first 5 Mastiff EOD vehicles were delivered on February 8th, 2010, 20 days after contract award due to long lead funding previously received towards work on the contract.
Michael Moody, Chief Executive Officer of Force Protection, commented, "We are delighted with the Cougar Mastiff's performance with the United Kingdom's forces. The Mastiff has proven time and again to be a life saver and an excellent value for our customer. These EOD Mastiffs will enable bomb disposal units in the current theater of operations to perform their missions safely and effectively. We thank our United Kingdom customer for their continued confidence in our products and we look forward to continuing to build on our strong relationships with the Ministry of Defence to meet other current and future survivability needs for British forces."
Force Protection
25.02.2010

Share...




Rheinmetall MAN Survivor R special protected vehicle on show at GPEC 2020 international security exhibition in Frankfurt/Main
24.02.2020
The Dutch armed forces select Rheinmetall to modernize their Bergepanzer 3 Büffel
17.05.2019
BAE Systems awarded Armored Multi-Purpose Vehicle contract modifications by U.S. Army for Low-Rate Initial Production
24.02.2019
Rheinmetall Mission Master Dominates European Ground Robotic Systems Competition at ELROB 2018
04.11.2018
Mastiff PPV (Mine protected carrier)
Discuss