BAE Systems Awarded $10.5 Million Contract for Armor Panels
Category: Contracts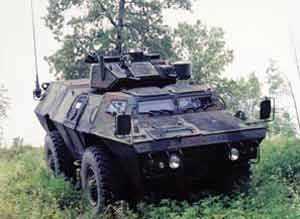 CINCINNATI, Ohio -- BAE Systems has been awarded a $10.5 million contract by Textron Marine and Land Systems to manufacture and deliver approximately 240 armor protection kits for Armored Security Vehicles (ASVs).
As part of the agreement, BAE Systems' Security & Survivability business will produce armor kits for the M1117 ASV-a turreted, armored, all-wheel drive vehicle-and armor kits for the M1200 Armored Knight-an ASV variant equipped with a sensor package that is used to locate and designate targets for indirect fire and laser guided weapons. After delivering the armor kits to Textron, BAE Systems' appliqu armor panels will be installed, and the armored up ASVs will be delivered to the U.S. Army Tank-Automotive and Armaments Command (TACOM).
Through its established relationship with Textron, BAE Systems has been building ASV armor panels for more than six years. "We are honored to once again have the opportunity to provide armoring systems for these important lifesaving vehicles," said Don Dutton, vice president of Platform Survivability for BAE Systems' Security & Survivability business. "We take great pride in knowing that the ASV is highly regarded as a safe, reliable and combat-proven vehicle that continues to protect our servicemen and women in Afghanistan, Iraq and throughout the world," added Dutton.
The ASV is often used to support Military Police missions, as well as a variety of other essential military operations.
Work on the contract is being performed at BAE Systems' facilities in Phoenix, Arizona. Deliveries of ASV armor kits will begin in March 2010 and are expected to be completed by July 2010.
BAE Systems' Security & Survivability business is a leader in protection, security and survivability systems for land, air and naval applications. It is a technology leader in lightweight materials, including composites, ceramic and transparent armor technologies; integrated vehicle armor systems; vehicle and aircraft survivability components and accessories; and soldier protection equipment, sold primarily to the government and other defense contractors.
BAE Systems
11.03.2010

Share...




BAE Systems` CV90 increases lethality by testing SPIKE LR anti-tank guided missile
14.01.2020
U.S. Marine Corps orders more Amphibious Combat Vehicles
11.11.2019
RAVEN Countermeasure System protects vehicles from missile threats
15.10.2019
BAE Systems unveils Robotic Technology Demonstrator Vehicle at AUSA
15.10.2019
BAE Systems Land Systems Hagglunds AB
Textron Systems Maui Operations
BAE SYSTEMS Advanced Technology Centre
BAE SYSTEMS Customer Solutions & Support Land & Sea
BAE SYSTEMS Operational Training
BAE SYSTEMS RO Defence Small Arms Ammunition Division
BAE Systems North America, Land & Information Systems
M1117 Guardian (Reconnaissance Vehicle)
Discuss