Force Protection Announces Sale of Two Ocelot Vehicles to United Kingdom Ministry of Defence
Category: Defence Industry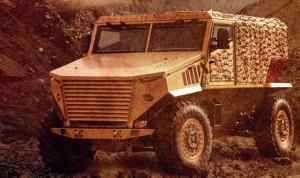 Ladson, SC -- Force Protection, Inc., a leading designer, developer and manufacturer of survivability solutions and provider of total life cycle support for those products, today announced that Force Protection Europe, a wholly owned subsidiary of Force Protection Industries, Inc., received a contract from the United Kingdom Ministry of Defence (MoD) for the purchase of two Ocelot vehicles for further testing in respect of the Light Protected Patrol Vehicle (LPPV) program.
Ocelot has been designed by Force Protection Europe and Ricardo, plc, a UK based automotive engineering company.
David Hind, Managing Director of Force Protection Europe, said: "We are very pleased with how our own testing and development schedule has been progressing. Ocelot has been performing well in tests since the middle of last year and has demonstrated that it offers unprecedented levels of survivability and maneuverability for a vehicle of this size and weight."
Graeme Rumbol, Global Vehicle Product Group Director for Ricardo plc, added: "The MoD has already completed a number of their own tests on two of our vehicles so we're delighted that they are now investing in these vehicles so that they can carry out further trials. Ocelot is building upon our existing long-standing relationship with the UK MoD which has most recently seen Ricardo carrying out extensive fleet upgrades to create the new RWMIK Plus standard of WMIK vehicle."
Ocelot has the flexibility to perform a range of roles including patrol, fire support and protected logistics. Innovative features include role-specific pods which can be fitted quickly to the core automotive armored V-shaped hull in the field. The armored hull houses the main fuel tank, drive line, batteries and generator as well as the power pack, which includes the engine, gearbox, auxiliary fuel tank and associated ECUs (electronic control units). The vehicle has been designed from the outset to be easily repaired and maintainable in the austere environment of a forward operating base. Commercial off the shelf (COTS) components have been used to ensure maximum availability of spares worldwide.
Ocelot is equally suited to operations in desert, jungle, mountainous or urban environments and meets the needs of military and internal security forces around the world.
The excellence of Force Protection's survivability technologies are amply demonstrated by the performance of the company's Mastiff and Ridgback Mine Resistant Ambush Protected (MRAP) vehicles. The Cougar vehicles upon which they are based are recognized around the world as offering the highest levels of survivability. Ricardo is a leading independent technology provider and strategic consultant to the world's transportation and clean energy sectors. Ricardo's highly successful defense vehicle engineering operations in both the UK and North America are based upon the company's thorough understanding of vehicle operational requirements and access to the very latest in automotive technology.
Force Protection
28.04.2010

Share...




The Dutch armed forces select Rheinmetall to modernize their Bergepanzer 3 Büffel
17.05.2019
BAE Systems awarded Armored Multi-Purpose Vehicle contract modifications by U.S. Army for Low-Rate Initial Production
24.02.2019
Rheinmetall Mission Master Dominates European Ground Robotic Systems Competition at ELROB 2018
04.11.2018
Oshkosh FMTV A2 Makes Debut at Ausa 2018, Multiple JLTVS Command the Floor
14.10.2018
Ocelot LPPV/Foxhound (Mine protected carrier)
Discuss