Skydex Expands Convoy Decking Protection for Thousands of Oshkosh M-ATVs Deployed in Afghanistan
Category: Defence Industry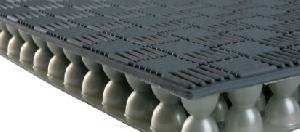 Centennial, CO -- In a multi-million dollar deal with Oshkosh Defense, SKYDEX Technologies, Inc. will deliver additional blast-mitigating decking for 2,875 Oshkosh M-ATVs specially designed to handle the rugged terrain in Afghanistan.
Oshkosh has made SKYDEX convoy decking a standard part of the new M-ATV's rear section since production began in 2009. Oshkosh has now ordered additional decking to outfit the driver, gunner and commander sections in the front of the vehicle. Deliveries will begin in March and continue throughout 2011. "IED (improvised explosive device) blasts in Afghanistan are at record levels - and they are responsible for most of the casualties in Afghanistan," said SKYDEX President and CEO Mike Buchen. "So SKYDEX is proud to be making a growing contribution to protecting American soldiers in combat there."
The SKYDEX Convoy Deck has already been installed in thousands of Mine Resistant Ambush Protected (MRAP) vehicles in Afghanistan and Iraq, including the Buffalo and Cougar, both manufactured by Force Protection. Last month, General Dynamics Land Systems - Canada ordered SKYDEX's patented blast-mitigating decking for 550 of its Stryker M-ATVs now in service in Afghanistan.
Independent testing demonstrates that SKYDEX blast-mitigating technology greatly reduces the threat of lower leg injuries by diminishing the force of an IED blast reaching personnel aboard an armored vehicle. That testing was done according to NATO's STANAG 4569 protection standards and thresholds. It shows that at a typical blast force of 12 meters per second, personnel aboard an armored vehicle without the SKYDEX Convoy Deck face a 100 percent chance of injury. Adding the SKYDEX decking drastically reduces the chance of injury to about 10 percent. STANAG 4569 is a NATO Standardization Agreement covering the standards for "Protection Levels for Occupants of Logistic and Light Armored Vehicles." Those standards cover strikes from kinetic energy, artillery and IED blasts.
The importance and value of the SKYDEX Convoy Deck was underscored recently in a Safety of Use Message issued to units in the field in Afghanistan by the Joint Program Office for MRAP, after that office received reports that some soldiers were removing the SKYDEX protective flooring from their vehicles to create additional space for gear inside the crew compartment. "Some soldiers in Afghanistan may be jeopardizing their safety by removing an important piece of safety equipment," Nathaniel Parady of the Joint Programs Office wrote recently in Knowledge - Official Safety Magazine of the U.S. Army. "(Soldiers are being urged) to leave the floor coverings in place. In vehicle-level blast testing, the floor coverings have proven to reduce the risk of lower leg fractures by absorbing blast waves and lessening the pressure transmitted into the body. Removing the floor coverings can reduce a crewmember's ability to survive the blast."
The Safety of Use Message stated clearly that an armored vehicle is not mission capable unless its blast-mitigating decking is in place.
Skydex
29.01.2011

Share...




Oshkosh Defense Receives Order for 248 Joint Light Tactical Vehicles
02.07.2020
Oshkosh Defense Receives $407.3 Million Order for Joint Light Tactical Vehicles
24.02.2020
General Dynamics Land Systems–UK showcases adaptable Foxhound vehicle at DSEI 2019
23.09.2019
Oshkosh Defense Exhibits JLTV Firepower at IDEX 2019
24.02.2019
RG-33 MRAP II (Mine protected carrier)
Cougar MRAP (Mine protected carrier)
Caiman MRAP (Mine protected carrier)
LAZAR BVT 8808-SR MRAP (Mine protected carrier)
MRAP-VVT (Crew training simulator)
Sherpa Medium MRAP (Mine protected carrier)
Discuss