International Export Markets Beckon for FPE`s World-Leading Next-Gen Vehicle
Category: Defence Industry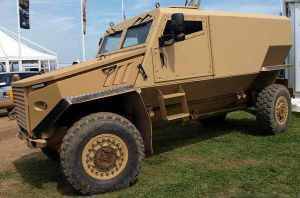 Ocelot makes its first public appearance since the MoD awarded the Light Protected Patrol Vehicles (LPPV) programme contract to FPE.
Force Protection Europe's contract winning light protected patrol vehicle, Ocelot, will be appearing at this year's International Armoured Vehicles exhibition on 8 and 9 February at ExCeL in London. This will be the first time that the vehicle has been on public view since Force Protection Europe was awarded a contract last November to supply the UK MoD with 200 of the vehicles.
The first batch of vehicles, which will be known as Foxhound by the British Army, will be delivered to the Army's training fleet later this year with the final vehicles scheduled to be completed by Spring 2012.
Designed, developed and built in the UK by survivability specialist Force Protection Europe, together with Team Ocelot partners automotive specialist Ricardo plc, Thales, QinetiQ, Formaplex, DSG and Sula, Ocelot is the most highly protected and agile vehicle of its size and weight that is available today.
Ocelot moved from concept to development over a remarkably short time frame for a military vehicle. Marrying together innovations from the motorsport arena with traditional defence vehicle development discipline, Ocelot underwent more than 12 months of rigorous blast and mobility testing before being chosen by the MoD.
David Hind, Managing Director, Force Protection Europe, said, "Our prime goal for this year is to meet the MoD's schedule for the LPPV programme. However Ocelot's success has also generated international interest in this ground breaking vehicle, which we hope to see being developed for other markets; the first of these is Australia as we prepare to send two Ocelots - a utility and a command variant - Down Under for testing in the Land 121 Phase 4 Project for the Protected Mobility Vehicle - Light prototype.
Force Protection
01.02.2011

Share...




Rheinmetall MAN Survivor R special protected vehicle on show at GPEC 2020 international security exhibition in Frankfurt/Main
24.02.2020
The Dutch armed forces select Rheinmetall to modernize their Bergepanzer 3 Büffel
17.05.2019
BAE Systems awarded Armored Multi-Purpose Vehicle contract modifications by U.S. Army for Low-Rate Initial Production
24.02.2019
Rheinmetall Mission Master Dominates European Ground Robotic Systems Competition at ELROB 2018
04.11.2018
Ocelot LPPV/Foxhound (Mine protected carrier)
Discuss