Force Protection, Inc. Expands Production Capacity Through Engineering Alliance
Category: Defence Industry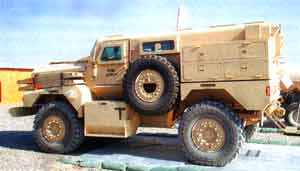 Ladson, SC - Force Protection, Inc., manufacturer of the Buffalo and Cougar armored vehicles deployed with U.S. armed forces in Iraq and Afghanistan, today announced a services contract with Ricardo plc, a leading international automotive consultancy.
Under the terms of the alliance, Ricardo will provide an integrated bill of materials including Spartan Chassis assemblies and subassemblies in the Cougar product line, automated drawings and model updates, design releases, and vehicle validation tasks for the Joint EOD Rapid Response Vehicle (JERRV).
Ricardo will receive an estimated $1.68 million for its services and materials.
"We are extremely pleased to work with a world-class organization like Ricardo," said Force Protection CEO Gordon McGilton. "Their expertise will be invaluable to us as we continue our rapid growth and expand production capacity to meet the constantly-increasing demand for our vehicles."
Force Production was recently awarded a joint contract by the Department of Defense for more than 120 Cougar JERRV vehicles funded by the Joint IED Defeat Task Force. Its vehicles have been in active operations for more than two years in support of Operations Iraqi Freedom and Enduring Freedom.
"This is an exciting time for Force Protection, as our manufacturing structure becomes larger," said Force Protection Industries President Ted McQuinn. "Ricardo brings a wealth of experience and a knowledge base in engineering technology that will greatly assist us as we address the needs of this joint order."
With technical centers in the United States, United Kingdom, Germany and the Czech Republic, Ricardo provides innovative technology, engineering services and strategic consulting to automotive industries around the world.
Force Protection, Inc.
23.07.2005

Share...




Rheinmetall MAN Survivor R special protected vehicle on show at GPEC 2020 international security exhibition in Frankfurt/Main
24.02.2020
General Dynamics Land Systems–UK showcases adaptable Foxhound vehicle at DSEI 2019
23.09.2019
The Dutch armed forces select Rheinmetall to modernize their Bergepanzer 3 Büffel
17.05.2019
BAE Systems awarded Armored Multi-Purpose Vehicle contract modifications by U.S. Army for Low-Rate Initial Production
24.02.2019
Cougar (Wheeled armoured personnel carrier)
Cougar H 4x4 (Mine protected carrier)
Buffalo H (Mine clearing vehicle)
Cougar MRAP (Mine protected carrier)
Buffalo (Wheeled armoured personnel carrier)
Cougar (Wheeled armoured personnel carrier)
Turkar Buffalo (Mine protected carrier)
Discuss