Force Protection Submits Bid for Canada`s Tactical Armoured Patrol Vehicle Project
Category: Defence Industry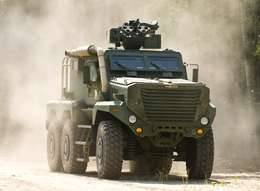 Force Protection Industries, Inc., a FORCE PROTECTION, INC. group company, today announced the submission of a bid and test vehicle to the Canadian Forces for the Tactical Armoured Patrol Vehicle (TAPV) project.
Force Protection is offering the Canadian Forces a 6x6 variant of the battle proven Cougar wheeled combat vehicle developed by Force Protection to meet the TAPV requirements. Force Protection will be the design authority and have overall responsibility for the acquisition contract to supply the TAPV vehicles and maintain configuration control.
As Force Protection's main Canadian partner, CAE will have overall responsibility for the comprehensive in-service support (ISS) solution, including: vehicle operator and mission training systems; engineering information environment; fleet management services; systems engineering support; and, lifecycle and integrated logistics support services. CAE will also be responsible for assembling a pan-Canadian team of companies to develop and support any country-specific requirements for Canada's replacement fleet of tactical armored patrol vehicles.
Force Protection and CAE previously announced a collaboration that includes Elbit Systems as the provider for a dual remote weapons system (DRWS) and Lockheed Martin Canada as the provider of C4ISR suite for the Timberwolf vehicle. Elbit Systems' Land and C4I DRWS was chosen based on its superior performance, reliability and ease of integration. Lockheed Martin Canada was chosen as the C4ISR integrator for Timberwolf based on its recognized capability in the development, production and support for integrated C4 systems.
Randy Hutcherson, Chief of Business Development for Force Protection, said, "Partnered with CAE, Force Protection is pleased to formally submit Timberwolf as the optimal solution for the TAPV project. Along with our key providers, we are committed to offering the Canadian Forces a highly-protected and reliable vehicle, as well as Industrial and Regional Benefits that will contribute to investment in Canadian industry and provide further experience and capability in the armored vehicle market."
A contract award to the final selected bidder for the TAPV requirement is currently expected by the second quarter of 2012.
Force Protection
02.09.2011

Share...




Rheinmetall MAN Survivor R special protected vehicle on show at GPEC 2020 international security exhibition in Frankfurt/Main
24.02.2020
The Dutch armed forces select Rheinmetall to modernize their Bergepanzer 3 Büffel
17.05.2019
BAE Systems awarded Armored Multi-Purpose Vehicle contract modifications by U.S. Army for Low-Rate Initial Production
24.02.2019
Rheinmetall Mission Master Dominates European Ground Robotic Systems Competition at ELROB 2018
04.11.2018
Timberwolf (Mine protected carrier)
Discuss