General Dynamics Awarded $126 Million Contract for Light Armored Vehicles
Category: Contracts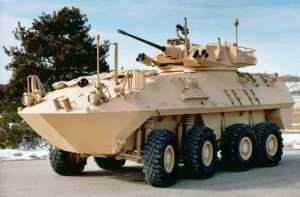 LONDON, Ontario, Canada -– The U.S. Army TACOM Life Cycle Management Command has awarded a USD$126 million contract modification to General Dynamics Land Systems-Canada for 73 Light Armored Vehicles (LAVs) for a Foreign Military Sale (FMS). With this latest contract modification, the original contract, announced on January 4, 2011, is now valued at USD$264 million for 155 LAVs.
General Dynamics Land Systems, the Canadian company's parent corporation, is a business unit of General Dynamics
The contract was signed through the Canadian Commercial Corporation, a Crown Agency of the Canadian Government.
Dr. Sridhar Sridharan, senior vice-president and general manager for International Operations, General Dynamics Land Systems, said, "We are pleased to be extending our relationship with TACOM in support of their Foreign Military Sales program. This order for additional vehicles is the best testament to the effectiveness of our Light Armored Vehicles with our international customers."
Vehicles provided under this contract will be the LAV II version – a 300 horsepower 8x8 vehicle with a gross vehicle weight of up to 32,000 lbs (14,500 kg). The vehicles will be produced in six different variants.
General Dynamics
21.12.2011

Share...




KONGSBERG CONCLUDES A $ 54 MILLION CONTRACT FOR THE DELIVERY WEAPON STATIONS TO CANADIAN ARMY
05.06.2020
Germany awards 159 MUSD vehicle contract to GDELS
24.04.2020
Switzerland awards contract to General Dynamics European Land Systems- Mowag to deliver 100 EAGLE 6x6 reconnaissance vehicles
06.12.2019
General Dynamics Land Systems–UK showcases adaptable Foxhound vehicle at DSEI 2019
23.09.2019
General Dynamics Land Systems - GDLS
General Dynamics Ordnance and Tactical Systems
General Dynamics European Land Systems-Mowag GmbH
General Dynamics Santa Barbara Sistemas
General Dynamics Armament Systems
General Dynamics Defence Systems
General Dynamics European Land Systems-Steyr GmbH
General Dynamics Armament and Technical Products (GDATP)
General Dynamics Amphibious Operations - GDAMS
General Dynamics Corp., Advanced Information Systems
General Dynamics Robotic Systems - GDRS
General Dynamics Land Systems - GDLS - Canada
General Dynamics European Land Systems - GDELS
Discuss