Renault to supply Sherpa trucks for French armed forces
Category: Defence Industry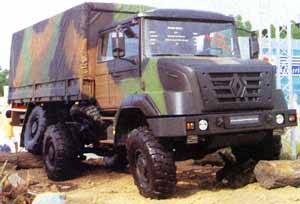 Renault Trucks Defense (RTD) has been awarded a contract to supply Sherpa Medium trucks used to refuel the French armed forces` aircraft.
The trucks will be able to refuel all types of aircraft including unmanned aerial vehicles (UAVs) in rough terrain because of their mobility. The contract, awarded by the French Armed Forces Fuel Service (SEA), is in response to a bid submitted by the company for the air-transportable multipurpose tactical tanker-truck (CCPTA) tender floated in November 2011.
The contract includes the supply of 30 vehicles and an option for an additional 20 trucks, and the qualification phase will be conducted in 2012, followed by deliveries in 2013. The Sherpa Medium is a family of 6x6 and 4x4 tactical trucks with a tank capacity of 5m3, which is sufficient to refuel all types of aircraft, including Eurocopter Cougar and Tiger attack helicopters as well as UAVs.
The truck is fully air-transportable by Lockheed C-130 Hercules and A400M aircraft and offers outstanding strategic and tactical mobility to military units operating under extreme conditions worldwide, according to RTD. The vehicle is capable of transporting up to 12t of payload off-road and can also be configured as a shelter carrier, troop transporter, tanker, wrecker and weapon system carrier.
The vehicle features a roof-mounted weapon system for ballistic protection and is armoured to counter diverse threats including kinetic projectiles, splinters, mines and improvised explosive devices (IEDs). The French Army already uses the truck as an ammunition-carrier platform for the Caesar artillery system and also as a self-propelled howitzer fitted with a 155mm gun.
Sergyi Way
20.01.2012


www.army-guide.com
Share...




Nexter and Texelis win the lightweight VBMR contract
13.02.2018
RENAULT TRUCKS Defense offers a new line of vehicles to internal security forces
22.11.2017
First Parade On The Champs-Elysees For The Armysís Future Connected Armorsd Vehicle
25.07.2017
319 GRIFFON and 20 JAGUAR vehicles ordered from Nexter, Renault Trucks Defense and Thales by the DGA as part of the SCORPION program
25.04.2017
Renault Vehicles Industriels, Defence Direction
Sherpa 3 Special Forces (Tactical vehicle)
Sherpa Light (Tactical vehicle)
Sherpa Medium MRAP (Mine protected carrier)
Sherpa APC XL (Wheeled armoured personnel carrier)
Sherpa SF Light/PLFS (Tactical vehicle)
Sherpa/Hawkeye 105 (Self-propelled howitzer)
Discuss