BAE Systems Teams With QinetiQ to Deliver Hybrid Electric Drive for US Army GCV Programme
Category: Future Technologies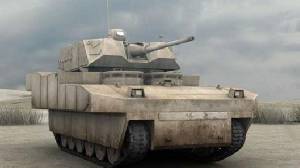 QinetiQ is to provide its 'game-changing' E-X-Drive transmission as the key component of a hybrid electric drive propulsion system to the BAE Systems-Northrop Grumman team that was recently awarded a $449.9 million contract for the technology development phase of the U.S. Army's Ground Combat Vehicle (GCV) programme.
The E-X-Drive transmission for electric drive tracked vehicles marks a significant step forward from conventional hydro-mechanical transmissions in terms of efficiency, size, weight, reliability and flexibility. The E-X-Drive based system for GCV offers improved acceleration, agility, fuel efficiency and maintainability compared to the drive-trains of current combat vehicles. It also delivers electrical power for on-board vehicle systems, or as export power for stationary applications.
Importantly E-X-Drive enables fundamental changes in vehicle configuration as the engine and transmission do not have to be connected mechanically. This allows increased flexibility in the choice of power sources and their location, facilitating the easy introduction of fuel cells and advanced battery/energy storage technologies as they become available over the life-time of the vehicle.
"E-X-Drive is the key component of our hybrid electric drive propulsion system for the GCV having been proven by the U.S. Army's Future Combat System programme as the most mature and capable product available," commented Mark Signorelli, vice president and general manager of weapons systems at BAE Systems.
He added: "By combining our expertise in vehicle design with QinetiQ's game-changing technology we are able to deliver an affordable electric drive propulsion system that enables exceptional force protection and mobility in a lower weight vehicle. Our system has the added advantage of provisioning for growth in power requirements as new technologies are matured and integrated into the platform."
QinetiQ will deliver several transmissions during the 24-month technology development phase of the GCV programme. They will be used to confirm demanding performance and durability targets, demonstrating the technology's readiness for prototype builds during the engineering and manufacturing phase.
David Crane, Programme Director, Power Management at QinetiQ concluded: "We are delighted to be on the BAE Systems-Northrop Grumman team as the provider of E-X-Drive technology that is a key differentiator for the Ground Combat Vehicle and a significant innovation in armoured fighting vehicle design."
QinetiQ
03.02.2012

Share...




QinetiQ and Pratt Miller Deliver First Robotic Combat Vehicle - Light to U.S. Army
02.02.2021
BAE Systems` CV90 increases lethality by testing SPIKE LR anti-tank guided missile
14.01.2020
U.S. Marine Corps orders more Amphibious Combat Vehicles
11.11.2019
RAVEN Countermeasure System protects vehicles from missile threats
15.10.2019
BAE Systems Land Systems Hagglunds AB
BAE SYSTEMS Advanced Technology Centre
BAE SYSTEMS Customer Solutions & Support Land & Sea
BAE SYSTEMS Operational Training
BAE SYSTEMS RO Defence Small Arms Ammunition Division
BAE Systems North America, Land & Information Systems
Discuss