Exports sales double at MTL Group
Category: Defence Industry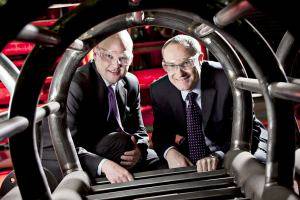 Steel specialist MTL Group announce exports have almost doubled to GBP 7.3 million after moving to a new state of the art facility in Rotherham in 2011.
The group, which manufactures fabrications and components for global OEMs ranging from armour plating for military vehicles to Boat Landing Systems, said its move from Sheffield to a new 300,000 square feet facility in Brinsworth in Rotherham, enabled it to double capacity and bring its manufacturing under one roof. The firm employs 365 people in Rotherham and a further 15 at its quayside facility in Blyth in Northumberland.
MTL Group said the GBP 5 million investment in its new home allowed it to specialize in volume manufacturing, with 22% of turnover now coming from exports. Its products are shipped around the world to mainland Europe, the Middle East, Africa, North America and India.
Mr David O'Hara finance director at MTL Group said that
"We have established a worldwide reputation as a specialist processor with the capability to cut, bend, machine and fabricate steel to customers' specific requirements. This expertise is increasingly being sought by overseas customers with exports growing to almost a quarter of our turnover. In 2011, we were awarded our largest ever export to supply 97 boat landing systems to a leading European foundations manufacturer, for a German offshore wind farm."
He added that "Since then, our export success in the offshore wind market has continued as we have secured several multi million pound export orders to supply boat landings for the Borkum West and Meerwind offshore wind farms in the North Sea. Having made a significant investment in larger, more efficient manufacturing facilities and also in training our workforce to the highest level of competency, we have been able to meet this demand from overseas and also to explore new sectors such as offshore wind farms."
MTL Group was established in 1995, underwent a management buyout in 2006, and has doubled its turnover in the last five years to GBP 50 million.
MTL Group
30.05.2012

Share...




MBDA SHOWCASES TANK DESTROYER VEHICLE WITH PGZ AT MSPO 2019
12.09.2019
Problems of Russian Vacuum APFSDS-T projectile
25.01.2019
104 German Leopard 2 MBTs to be modernized
28.09.2017
Team Challenger® 2 offers a future-ready Main Battle Tank
14.09.2017
TenCate Advanced Armour France S.A.S.
TenCate Advanced Armour Danmark A/S
Discuss