General Dynamics Awarded $65 Million by the Colombian Ministry of National Defence for Light Armoured Vehicles
Category: Contracts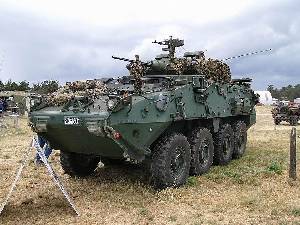 LONDON, Ontario, Canada -- The Colombian Ministry of National Defence has awarded a USD$65.3 million contract to General Dynamics Land Systems-Canada for 24 Light Armoured Vehicles (LAVs) for the Colombian Army. General Dynamics Land Systems, the Canadian company's parent corporation, is a business unit of General Dynamics (NYSE: GD).
The contract was signed through the Canadian Commercial Corporation, a Crown Agency of the Government of Canada.
This contract was a priority acquisition by the Colombian Ministry of National Defence and provides a new capability for the Army. Vehicles provided under this contract will be the LAV III version with double-V hull technology and add-on armour that provides crew members with the latest in protection against mine blasts, IEDs and other threats. All vehicles will be equipped with a Rafael Remote Controlled Weapon Station. Deliveries will be completed by May 2014.
Dr. Sridhar Sridharan, senior vice-president and general manager for International Operations, General Dynamics Land Systems, said, "We are proud to have been selected by the Colombian military to meet their armoured vehicle requirement and look forward to establishing a long-term relationship with this very important customer."
General Dynamics
11.01.2013

Share...




KONGSBERG CONCLUDES A $ 54 MILLION CONTRACT FOR THE DELIVERY WEAPON STATIONS TO CANADIAN ARMY
05.06.2020
Germany awards 159 MUSD vehicle contract to GDELS
24.04.2020
Switzerland awards contract to General Dynamics European Land Systems- Mowag to deliver 100 EAGLE 6x6 reconnaissance vehicles
06.12.2019
General Dynamics Land Systems–UK showcases adaptable Foxhound vehicle at DSEI 2019
23.09.2019
General Dynamics Land Systems - GDLS
General Dynamics Ordnance and Tactical Systems
General Dynamics European Land Systems-Mowag GmbH
General Dynamics Santa Barbara Sistemas
General Dynamics Armament Systems
General Dynamics Defence Systems
General Dynamics European Land Systems-Steyr GmbH
General Dynamics Armament and Technical Products (GDATP)
General Dynamics Amphibious Operations - GDAMS
CIC International Ltd, Colombia Defence Corporation
FUERZAS MILITARES DE COLOMBIA EJERCITO NACIONAL
General Dynamics Corp., Advanced Information Systems
General Dynamics Robotic Systems - GDRS
General Dynamics Land Systems - GDLS - Canada
General Dynamics European Land Systems - GDELS
Discuss