BAE Systems To Continue M109A7 Production With $142 Million Follow-on Contract
Category: Defence Industry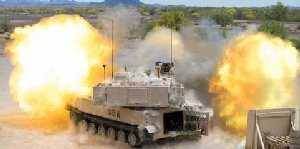 BAE Systems will produce additional M109A7 self-propelled howitzers and M992A3 ammunition carriers for the U.S. Army.
BAE Systems received a follow-on contract from the U.S. Army to continue low-rate initial production (LRIP) on the M109A7 self-propelled howitzer and M992A3 ammunition carrier.
The M109A7 provides a significant upgrade over the M109A6 Paladin Self-Propelled Howitzer while allowing for future growth.
"BAE Systems is proud to partner with the Army to continue production on this important upgrade program," said Adam Zarfoss, director for Artillery and Recovery Systems at BAE Systems. "The M109A7 is a significant leap forward in technology for the Field Artillery, addressing the current system shortfalls while providing significant margin for growth to help position the service for the long term."
BAE Systems was awarded a one-year base contract for the M109A7, formerly the Paladin Integrated Management program, in October 2013. The current contract is the first of three option year awards to produce an additional 18 vehicle sets — 18 M109A7 howitzers and 18 carrier ammunition, tracked vehicles for approximately $142 million. Once all options are exercised, the Army intends to purchase a total of 66.5 vehicle sets plus spares, kits, and technical documentation. One set includes a M109A7 Paladin Self Propelled Howitzer along with its battlefield companion, the M992A3 Carrier Ammunition, Tracked (CAT).
The M109A7 program is a significant upgrade over the vehicle's predecessor, the M109A6 Paladin Self-Propelled Howitzer, restoring space, weight, and power-cooling, while providing growth potential for emerging technologies. The design includes a Bradley-common chassis, engine, transmission, suspension, steering system, and improved survivability, while leveraging technologies developed during the Non-Line-of-Sight Cannon program such as a 600 volt on-board power system. The state-of-the-art "digital-backbone" and power generation capability provides significant growth potential for future payloads as well as accommodating existing battlefield network requirements.
Work on the M109A7 is currently underway at Anniston Army Depot, Alabama, and BAE Systems' York, Pennsylvania, facility. Final production will take place at the company's Elgin, Oklahoma, facility, with the first vehicles scheduled to be delivered to the Army in early 2015.
BAE Systems
09.11.2014

Share...




BAE Systems` CV90 increases lethality by testing SPIKE LR anti-tank guided missile
14.01.2020
U.S. Marine Corps orders more Amphibious Combat Vehicles
11.11.2019
RAVEN Countermeasure System protects vehicles from missile threats
15.10.2019
BAE Systems unveils Robotic Technology Demonstrator Vehicle at AUSA
15.10.2019
BAE Systems Land Systems Hagglunds AB
BAE SYSTEMS Advanced Technology Centre
BAE SYSTEMS Customer Solutions & Support Land & Sea
BAE SYSTEMS Operational Training
BAE SYSTEMS RO Defence Small Arms Ammunition Division
BAE Systems North America, Land & Information Systems
M109A7 (Self-propelled howitzer)
Discuss