AMV35 selected for Land 400 evaluation
Category: Defence Industry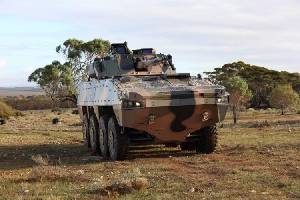 BAE Systems Australia and Land 400 bid partner Patria have been confirmed as one of two tenders selected to take part in the 12-month Risk Mitigation Activity for the Australian Army's Land 400 Phase 2 combat reconnaissance vehicle program.
BAE Systems Australia has offered the AMV35 – Patria's modern, agile, highly protected military-off-the-shelf Armoured Modular Vehicle integrated with the combat-proven E35 turret from BAE Systems Hägglunds.
BAE Systems Australia Chief Executive Glynn Phillips said: "BAE Systems will manufacture the AMV35 in Australia if we are selected as the successful tender. This will secure and retain in-country capability and contribute significantly to the Australian economy throughout the expected 30-plus year life of the vehicles.
"Our three test vehicles are built and ready for the Australian Defence Force's test and evaluation program. Our team is now focussed on maturing our in-country manufacturing plans to ensure we provide the Australian Army with the best capability while also delivering the maximum economic benefit across our Australian supply chains."
Mika Kari, President of Patria's Land business said: "BAE Systems and Patria have together developed a great solution for Australian soldiers and the Australian economy. We are now in a position for the AMV35 to be evaluated, continue our partnership with BAE Systems and forge stronger links with Australian industry."
BAE Systems is committed to embedding as much Australian industry content in this vehicle as possible and to helping grow local industrial capability, with the manufacturing, technology and intellectual capability transitioning to an Australian production line.
Both Patria and BAE Systems Hägglunds have transferred technology involved in the production of the AMV and the E35 turret to several other countries, successfully demonstrating capability transfer and the in-country economic advantages this brings, including long term sustainment, upgrade and maintenance activities.
BAE Systems has already had more than 260 registrations of interest from small to medium sized businesses throughout regional and metropolitan Australia and is planning an industry roadshow to engage suppliers directly in the next few months.
SAAB defence products feature as sub-systems in the AMV35 vehicle and weapon system. In July 2015, SAAB Australia and BAE Systems Australia signed a Memorandum of Understanding committing both organisations to collaborate to maximise Australian industry involvement and further develop Australian capability through the Land 400 project.
Patria
01.08.2016

Share...




BAE Systems` CV90 increases lethality by testing SPIKE LR anti-tank guided missile
14.01.2020
U.S. Marine Corps orders more Amphibious Combat Vehicles
11.11.2019
RAVEN Countermeasure System protects vehicles from missile threats
15.10.2019
BAE Systems unveils Robotic Technology Demonstrator Vehicle at AUSA
15.10.2019
BAE Systems Land Systems Hagglunds AB
BAE SYSTEMS Advanced Technology Centre
BAE SYSTEMS Customer Solutions & Support Land & Sea
BAE SYSTEMS Operational Training
BAE SYSTEMS RO Defence Small Arms Ammunition Division
BAE Systems North America, Land & Information Systems
AMV35 (Reconnaissance Vehicle)
Discuss