BAE Systems debuting next generation Bradley prototype
Category: Exhibitions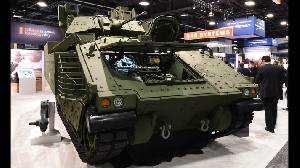 BAE Systems' Next Generation Bradley Fighting Vehicle demonstrator is debuting today at the Association of the United States Army (AUSA) annual meeting in Washington, D.C.
The concept vehicle features an upgraded chassis that allows for significantly increased underbelly protection, improved force protection for mounted troops, compartmentation of fuel and ordnance, and more space and electrical power for future technology growth.
"In the current budget environment, the Army often has to choose between maintaining an existing fleet and developing new capabilities," said Deepak Bazaz, director of Artillery and Bradley Programs at BAE Systems. "We're investing in research and development to demonstrate cost-effective options for the Army to address current gaps. We're focused on integrating current, emerging, and future technologies to significantly improve the Bradley's mobility, force protection, and lethality.
"By leveraging new and emerging technology, with an eye towards commonality within the formation, we can continue to provide superior capabilities for our troops," Bazaz added. "Key to our approach is providing built-in growth capacity that will ensure the system can support future inbound technologies, allowing our soldiers to successfully execute their mission in the coming decades."
The Next Generation Bradley includes suspension upgrades to enhance mobility to maneuver within the Armored Brigade Combat Team (ABCT). It incorporates an upgraded turret from the current Bradley and enhancements achieved during ongoing Engineering Change Proposal modernization efforts, such as suspension improvements, targeting sensors, and network connectivity. BAE Systems will use this vehicle to mature these technologies and provide a platform for development and user experimentation and evaluation.
The prototype features armor, fuel tanks, and the driver's hatch from the Armored Multi-Purpose Vehicle, and the 600 volt electronics and final drives from the M109A7 Self-Propelled Howitzer integrated with current and future Bradley systems. Leveraging technology from other BAE Systems-built vehicles in the ABCT allows for significant savings in both development time and cost. In addition, the commonality of parts among the vehicles also provides significant cost savings opportunities over the life cycle of the vehicle and reduces the complex logistics trail.
BAE Systems is the original equipment manufacturer of the Bradley Fighting Vehicle and continues to provide full life-cycle support to the Army and allied partners.
BAE Systems
06.10.2016

Share...




BAE Systems` CV90 increases lethality by testing SPIKE LR anti-tank guided missile
14.01.2020
U.S. Marine Corps orders more Amphibious Combat Vehicles
11.11.2019
RAVEN Countermeasure System protects vehicles from missile threats
15.10.2019
BAE Systems unveils Robotic Technology Demonstrator Vehicle at AUSA
15.10.2019
BAE Systems Land Systems Hagglunds AB
BAE SYSTEMS Advanced Technology Centre
BAE SYSTEMS Customer Solutions & Support Land & Sea
BAE SYSTEMS Operational Training
BAE SYSTEMS RO Defence Small Arms Ammunition Division
BAE Systems North America, Land & Information Systems
Bradley M2/M3 (Infantry fighting vehicle)
Bradley M2A3/M3A3 (Infantry fighting vehicle)
Bradley M6 Linebacker (Anti-aircraft system)
Bradley M2A3 (Modernization of the vehicle)
Bradley M7 (Observation Post Vehicle)
Bradley M2A1/M3A1 (Infantry fighting vehicle)
Bradley M2A2/M3A2 (Infantry fighting vehicle)
Bradley M2A3 IBAS (Modernization of the vehicle)
Bradley AMTV (Ambulance vehicle)
Bradley AMEV (Ambulance vehicle)
Bradley BMV (Self-propelled mortar)
Discuss