BAE Systems and Marand announce teaming agreement on Land 400
Category: Defence Industry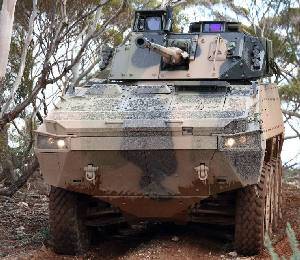 Marand will contribute leading cross-sector expertise gained from the automotive, aerospace, rail and defence sectors to the program, providing a range of production engineering solutions. The company has proven experience in welding ballistic steel, advanced machining and complex assembly performed on a daily basis for defence exports, and has been designing, building and launching vehicular production lines for over 30 years.
BAE Systems Australia Chief Executive, Glynn Phillips, said:
"I am delighted that Marand has chosen to work with BAE Systems Australia on Land 400. Today's announcement demonstrates how Australian industry is getting behind our solution for the Australian Army."
Marand Chief Executive Officer, Rohan Stocker, said:
"BAE Systems is a great partner. The Company delivers on its industrial commitments, transferring technology that has allowed Marand to create high skilled jobs and defence exports. We have already proven that we can deliver complex defence production technology transfers in Australia with 100 percent quality and delivery performance."
BAE Systems worked with Marand on its transition from the automotive and aerospace to defence industry through collaboration on the global F-35 Joint Strike Fighter program more than 10 years ago. BAE Systems provides titanium parts to Marand which are used in the manufacture of F-35 vertical tail fins in Australia and are in turn exported to the USA under contract from BAE Systems in the UK.
In July last year, BAE Systems and Land 400 bid partner Patria were confirmed as one of two tenders selected to take part in the 51 week Risk Mitigation Activity for the Australian Army's Land 400 Phase 2 combat reconnaissance vehicle program.
BAE Systems and Patria are offering the combat-proven AMV35 for Land 400 Phase 2. The team is committed to manufacturing the AMV35 locally with an industry solution that will grow local manufacturing knowledge, create jobs and bring further economic benefits to the Australian SME supply chain.
BAE Systems
06.02.2017

Share...




BAE Systems` CV90 increases lethality by testing SPIKE LR anti-tank guided missile
14.01.2020
U.S. Marine Corps orders more Amphibious Combat Vehicles
11.11.2019
RAVEN Countermeasure System protects vehicles from missile threats
15.10.2019
BAE Systems unveils Robotic Technology Demonstrator Vehicle at AUSA
15.10.2019
BAE Systems Land Systems Hagglunds AB
BAE SYSTEMS Advanced Technology Centre
BAE SYSTEMS Customer Solutions & Support Land & Sea
BAE SYSTEMS Operational Training
BAE SYSTEMS RO Defence Small Arms Ammunition Division
BAE Systems North America, Land & Information Systems
AMV35 (Reconnaissance Vehicle)
Discuss