Orbital ATK to Develop and Qualify Next Generation AMP Tank Ammunition
Category: Contracts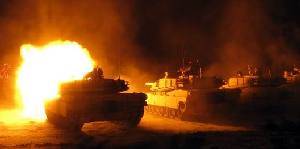 Orbital ATK, a global leader in aerospace and defense technologies, announced today that the company was awarded a $45 million dollar contract to complete development of the next generation 120 mm multi-purpose round for the Abrams Main Battle Tank. The award funds the final development and qualification for the U.S. Army's Advanced Multi-Purpose (AMP) round.
The contract calls for a 30-month development and qualification deliverable, and also includes three exercisable options for initial and full-rate production that could bring the total contract value to $119 million dollars.
"Our development of advanced ammunition types provides combat overmatch for the soldier," said Dan Olson, Vice President and General Manager for Orbital ATK's Armament Systems Division of the Defense Systems Group. "When fielded, AMP will greatly improve the Abrams' main-gun ammunition capabilities by closing the ATGM and wall breach capability gaps."
The AMP round provides the warfighter with new capabilities to defeat Anti-Tank Guided Missile Teams/dismounted infantry and breach double-reinforced concrete walls. Additionally, the AMP consolidates the capabilities of four existing 120 mm munitions including defeat of light-armor, bunkers, and obstacle reduction, resulting in a reduced logistical burden while also allowing the warfighter to battlecarry a single munition for multiple engagement scenarios.
Using the Abrams' ammunition data link, the gunner will use the fire control system to program the AMP fuze for a specific operational mode (point detonate or airburst). The versatility of the round lies in the crew's ability to specify the engagement mode which in turn, greatly reduces crew reaction time and increases battlefield survivability.
Since 1980, Orbital ATK has partnered with the U.S. Army, to successfully type-classify 12 of the 14 current 120 mm tactical and training rounds for the Abrams tank and has delivered more than 4 million 120 mm tank rounds to the U.S. Army, U.S. Marine Corps, and allied militaries. The company has qualified and is in production with the M829A4 Advanced Kinetic Energy round, which provides the ability to defeat current and projected threat tanks equipped with third generation reactive armor and active protection systems.
Orbital ATK's Defense Systems Group is an industry leader in providing innovative and affordable precision and strike weapons, advanced propulsion and hypersonics, missile components across air-, sea- and land-based systems, ammunition and related energetic products.
Orbital ATK
09.02.2017

Share...




General Dynamics European Land Systems presents a new variant of PIRANHA IFV at the HEMUS Exhibition 2018
04.06.2018
OSHKOSH DEFENSE DISPLAYS THE NEXT GENERATION OF LIGHT VEHICLES WITH UNMATCHED MOBILITY AND TRANSPORTABILITY
13.12.2017
Orbital ATK Demonstrates MK44 Bushmaster Chain Gun in 30mm and 40mm Configurations
28.06.2017
Orbital ATK Awarded $16 Million to Develop Next Generation 120MM Tank Ammo
10.10.2015
Discuss