BAE Systems signs CV90 vehicle support contracts with Estonia
Category: Contracts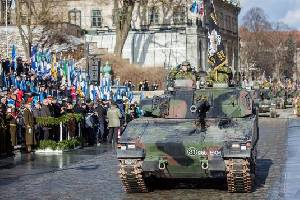 CV90 in the national day parade in Tallinn, Estonia on 24 February. Photo credit Estonian Defence Forces
BAE Systems and the Estonian government have signed contracts to maintain and sustain the country's fleet of CV9035 Infantry Fighting Vehicles (IFVs).
The long-term agreements cover configuration management for new IFV capabilities, as well as maintenance, repairs, and spare parts. The contracts between the Estonian Centre for Defence Investment (ECDI) and BAE Systems cover 44 CV9035 vehicles acquired from the Netherlands in 2014.
"The armoured maneuvering capability program is one of the most important capability development projects of the last decade in Estonia, which will increase the combat capability of Estonian Defence Forces remarkably," said Margus Padjus, project manager of the Procurement Department at ECDI." The CV9035 Infantry Fighting Vehicles that the Estonian Ministry of Defence bought from the Netherlands was the first step in this project. To ensure utilization of the vehicles would be as efficient as possible, ECDI entered into the long-lasting life-cycle support contract with BAE Systems Hägglunds. I am convinced that our CV90s will be professionally and reliably supported by BAE Systems Hägglunds."
Estonia is one of seven nations, including four NATO allies, operating more than 1,200 CV90s. The CV90 is a leading, adaptable, and combat proven vehicle.
"We welcome Estonia to the family of nations who rely on the CV90 for critical ground combat capability," said Tommy Gustafsson-Rask, general manager of BAE Systems Hägglunds. "We are fully committed to supporting Estonia and ensuring this new capability and cost-efficient solution will be effectively integrated in a manner consistent with other NATO users."
BAE Systems
07.04.2017

Share...




BAE Systems` CV90 increases lethality by testing SPIKE LR anti-tank guided missile
14.01.2020
U.S. Marine Corps orders more Amphibious Combat Vehicles
11.11.2019
RAVEN Countermeasure System protects vehicles from missile threats
15.10.2019
BAE Systems unveils Robotic Technology Demonstrator Vehicle at AUSA
15.10.2019
BAE Systems Land Systems Hagglunds AB
BAE SYSTEMS Advanced Technology Centre
BAE SYSTEMS Customer Solutions & Support Land & Sea
BAE SYSTEMS Operational Training
BAE SYSTEMS RO Defence Small Arms Ammunition Division
BAE Systems North America, Land & Information Systems
CV90 (Repair and recovery vehicle)
CV90 Armadillo (Tracked armoured personnel carrier)
CV90 Mk IV (Infantry fighting vehicle)
Discuss